Pentax K Objektiv på Canon EOS Kamera Adapter
Tillverkare:

K&F Concept

Köp K&F Concept pentax k objektiv på canon eos kamera adapter online, Gratis frakt världen över och 30 dagar returgaranti.

KF06.130

Artikelnummer:

KF06.130

200

https://se.kentfaith.com/KF06.130_pentax-k-objektiv-på-canon-eos-kamera-adapter
Köp 1000Kr få en 80Kr rabatt på ingen gränskupong
Funktioner
* Tillåt Pentax K-objektiv som används på Canon EOS Rebel kameraskropp.
* Kompatibel med Canon EOS Rebel kamera inkluderar: Canon 300D, 350D, 400D, 450D, 500D, 550D / T2i, 600D / T3i, 650D / T4i, 700D / T5i, 750D / T6i, 760D / T6s, 800D / T7i, 100D, 200D , 1000D, 1100D / T3, 1200D / T5, 1300D / T6, Canon 77D, D30, D60, 10D, 20D, 20Da, 30D, 40D, 50D, 60D 60Da, 70D, 77D, 80D, 7D, 7D Mark II, 5D , 5D Mark II, 5D Mark III, 5D Mark IV, 5Ds, 5Ds R, 6D, -1D, -1Ds, -1D X, -1D C etc.
* Tillverkad av mässing och aluminium. Stabil, exakt och hållbar konstruktion. Manuellt manövrerad. Infinitetsfokus tillåtet.
* För tunga mediumformatlinser, föreslår vi att du använder en telefonsamling och ett stativ för att balansera sin vikt vid fotografering.
* 30 dagar ingen anledning, 12 månaders kvalitetsgaranti, 100% tillfredsställande försäkring.
Shipping
&fri frakt till Sweden
Sale
Köp 1000Kr få en 80Kr rabatt på ingen gränskupong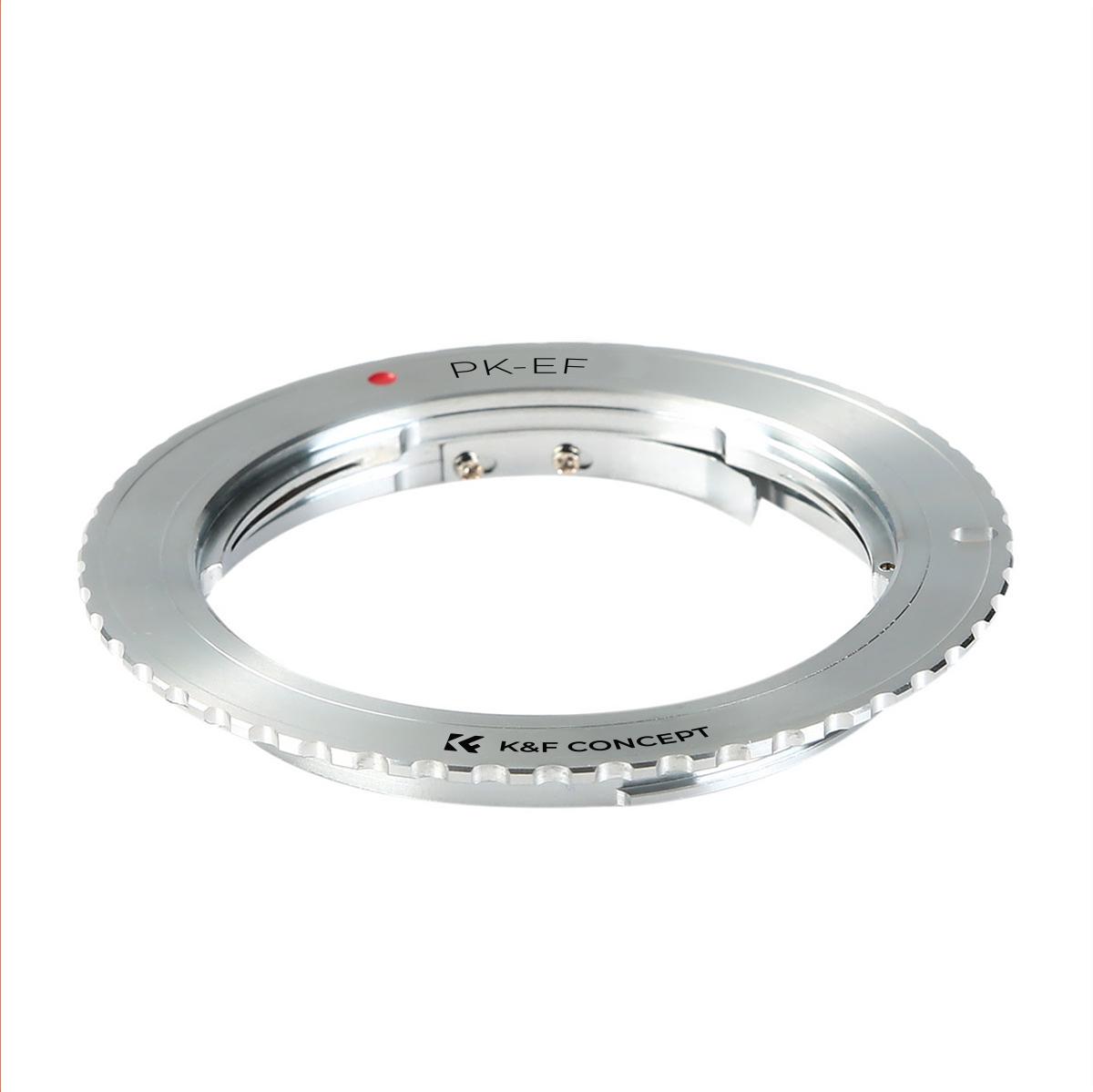 K & F Concept-design och producera komplett utbud av linsadaptrar för att passa linser från Canon, Nikon, Pentax, Olympus, Leica, Contax Yashica, Minolta, Tamron, T2, C-mount, Exakta, M39, M42, Pentacon etc , Nikon, Sony, Fujifilm, Pentax, Micro 4 3, Leica, M42, Cinema C mount etc.

Rating

2 reviews.

35 reviews.

0 reviews.

2 reviews.

0 reviews.

8 reviews.
Price
200 Kr

300 Kr

262 Kr

260 Kr

400 Kr

371 Kr

415 Kr

390 Kr

313 Kr

Model
KF06.130
KF06.145
KF06.389
KF06.159
KF06.379
KF06.100

Kamera

EOS
M4/3
NIK Z
FX
EOS R
FX
NOT for use with Pentax K mount Lens and full frame Canon DSLRs 5D's 1D's 6D's etc Unless lens has first been modified!!!
Not for use with Pentak K mount lens to full frame Canon cameras without lens modification! VERY IMPORTANT Read This!!! Pentax K to Full Frame EOS Digital Digital eg 5D 5D Mk ii Mk iii MK iv 1D X 6D etc . READ THIS !!! While this adapter will physically fit on your Pentax K mount lens and attach it to your camera body but DO NOT do this unless you have modified the lens first!!! The problem is if you operate the shutter then the metal aperture lever that protrudes from the back of a Pentax K lens and the 'inclining part of the rear lens cover WILL HIT YOUR MIRROR on a full frame DSLR as the shutter activates and the mirror rises out the way. When the mirror cannot open fully because of this obstruction this can cause damage to your mirror and the mechanism and WILL shut your camera down! As you remove the lens the mirror will flip up to the top but your camera will remain shut down. This happened to me with my 5D iii which is why I warn you! I switched the camera off and on again but nothing! I then removed the battery and replaced it after 30 seconds then turned the camera back on again with no lens attached. The camera then turned back on and after about 10 seconds the shutter fired and the mirror dropped - phew! I luckily sustained no major damage just a slight mark on the bottom edge of the mirror where it had hit but I think I was probably lucky that the mirror did not shatter. Imagine that glass all over your sensor! I then went ahead and followed some advice on how to modify the Pentax K lens and remove the plastic incline next to the aperture lever on the back of my Pentax lens and the metal aperture lever itself. I did this and might even do a video myself because I did actually partly strip the rear of the lens to do this but be warned if you remove the bayonet ring the aperture ring can also slide off and there is a sprung ball bearing under the ring the give it the clicks. If the ring slides off be very careful not to lose the sprung ball bearing which is close to 12 o'clock under the aperture indicator. Anyhow modified your K mount lens will then fit and work - well speed on the camera, the aperture on the lens and you will have to manually close the aperture to the desired setting after focusing manually which is better done wide open. Hope this helps. If you are looking to use old lenses on your full frame camera you might be better looking for M42 screw lenses which I don't think have pointy out bits you need to cut of which could easily kill your lovely full frame camera. Hope this has helped.
19/01/2018
Does the job
Doest the job! Simple, steel ring. Cant go wrong with that!
07/01/2018
These images belong to K&F Concept end users.
There are no faqs for this product.
Adapter
Kamera
EOS
Lins
PK
Ringmaterial