M42 Objektiv på M43 MFT Kamera Adapter
235 Kr
290 Kr
18% OFF
Inklusive moms
Tillverkare:

K&F Concept

Köp K&F Concept m42 objektiv på m43 mft kamera adapter online, Gratis frakt världen över och 30 dagar returgaranti.

KF06.076

Artikelnummer:

KF06.076

235

https://se.kentfaith.com/KF06.076_m42-objektiv-på-m43-mft-kamera-adapter
Funktioner
• Tillåt M42-monteringslinser som används på Micro 4 3 MFT-kameraskåpet.
• Kompatibel med Micro Four Thirds (M4 / 3) kamera inkluderar: Panasonic Lumix G1, GH1, GF1, G10, G2, GH2, GF2, G3, GF3, GX1, GF5, G5, GH3, GF6, G6, GX7, GX80 / GX85 / GX7 Mark II, GM1, GH4, GM5, GF7, G7, GX8, G85 / G80, DC-GH5, DC-G9; Olympus PEN E-P1, E-P2, E-PL1, E-PL1, E-PL2, E-P3, E-PL3, E-PM1, E-PL5, E-PM2, E-P5, E-PL6, E-PL7, PEN-F, E-PL8; Olympus OM-D E-M5, E-M1, E-M10, E-M5 II, E-M10 Mark II, E-M1 Mark II, JVC GY-LS300 S35 mm videokamera, DJI Zenmuse X5, Kodak Pixpro S-1 , Blackmagic Pock
• Tillverkad av mässing och aluminium. Stabil, exakt och hållbar konstruktion. Manövrerad. Infinansfokus tillåten.
• För tunga mediumformatlinser, föreslår vi att du använder en telefonsamling och ett stativ för att balansera sin vikt vid fotografering.
• 30 dagar ingen anledning, 12 månaders kvalitetsgaranti, 100% tillfredsställande försäkring.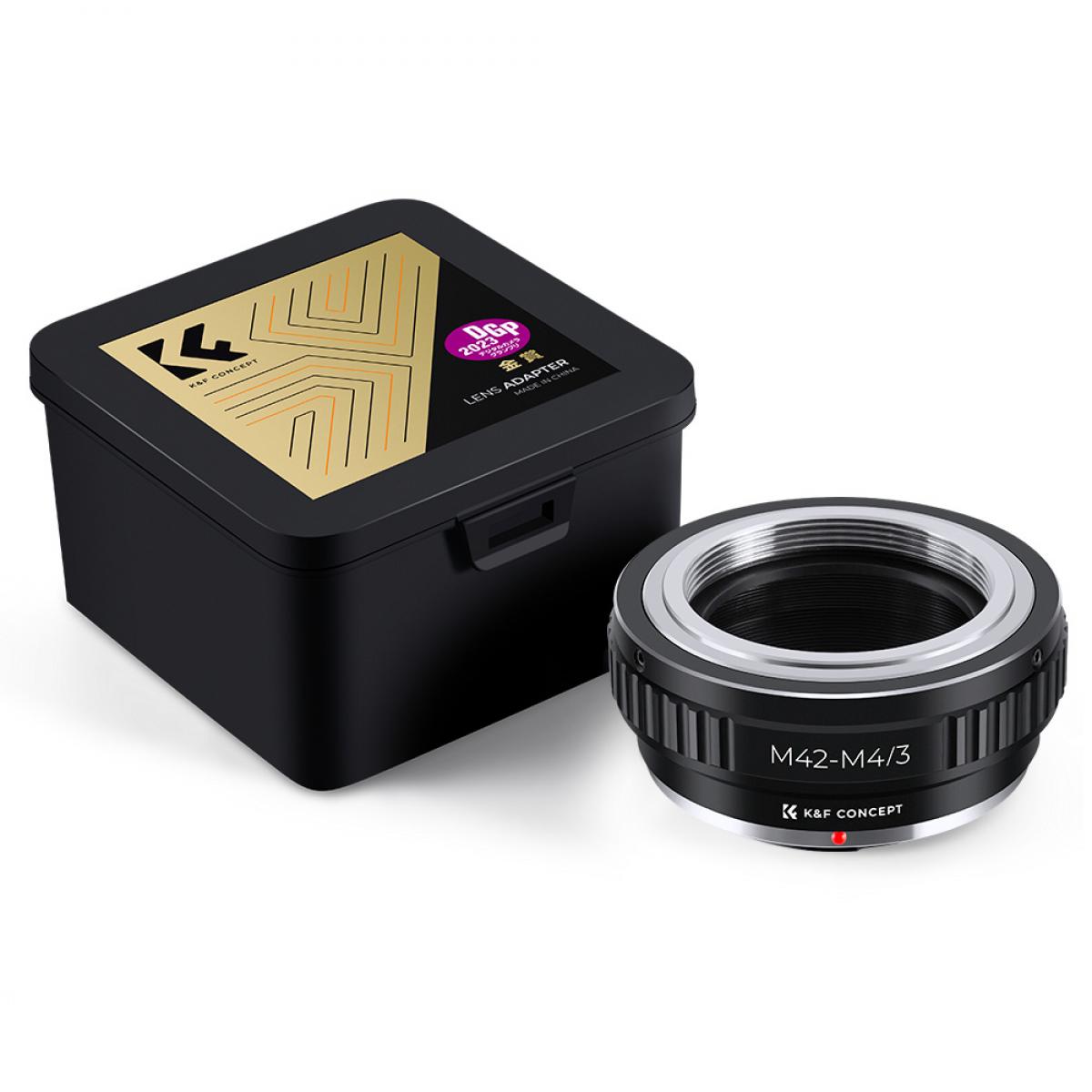 K & F Concept-design och producera komplett utbud av linsadaptrar för att passa linser från Canon, Nikon, Pentax, Olympus, Leica, Contax Yashica, Minolta, Tamron, T2, C-mount, Exakta, M39, M42, Pentacon etc , Nikon, Sony, Fujifilm, Pentax, Micro 4 3, Leica, M42, Cinema C mount etc.

A good buy
I'm using it attach a helios lens to my G81. It fits nicley and works flawlessly
26/12/2019
Perfect
Very well built, perfect fit for all my M42 mount lenses.
17/12/2019
Excellent products
Excellent products
08/10/2019
Recommend
Work as expected! Good buy
27/07/2019
Excellent Product
A friend gave me an old M42 200 mm lens since hewas unable to make use of it. I bpoght this adapter to see if the lens was still viable. The adapter connects to both the lens and the camera very positively and cleanly. A good sign is that the red focussing mark and the aperture equivalent are top dead centre.The lens is of the early aperture preset type where you set the desired aperture, but the lens remains fully open until you spin the ring adjacent to the aperture ring to close down prior to exposure.Clearly one can either use a meter and set the shutter speed manually or leave the camera meter to set it at the time of exposure. Clearly the exposure time displayed will only be accurate with the lens stopped down. Focus will obviously be manual, but with Olympus bodies you will get image stabilisation if you manually set the focal length.An interesting experience using a lens designed for cameras several generations of development back, pretty well using the same techniques we were using 60 years ago.This adapter feels so well made that it was a pleasure to use it.
10/07/2019
These images belong to K&F Concept end users.
There are no faqs for this product.
K&F Concept M42-M4/3 Objektiv Adapter für MFT Kameras
Adapter
Kamera
M4/3
Lins
M42
Ringmaterial
Comparison of similar products
Rating

79 reviews.

22 reviews.

10 reviews.

42 reviews.

53 reviews.

3 reviews.
Price

290 Kr

235 Kr

380 Kr

290 Kr

300 Kr

257 Kr

260 Kr

186 Kr

210 Kr

290 Kr

190 Kr

Model
KF06.076
KF06.082
KF06.070
KF06.101
KF06.059
KF06.169