PK K-Objektiv Till Sony Nex E-mount Lens Adapter, Kompatibel Med Sony Nex-3 Nex-3c Nex-3n Nex-5 Nex-5c Nex-5n Nex-5r Nex-5t Nex-6 Nex-7 Nex-f3 Nex-vg10 Vg20
280 Kr
289 Kr
Inklusive moms
Tillverkare:

K&F Concept

K&F M17101 Pentax K-objektiv till Sony E Lens Mount Adapter Tillåt Pentax K-monteringslinser som används på Sony E NEX/Alpha kamerakropp.

KF06.075

Artikelnummer:

KF06.075

280

https://se.kentfaith.com/KF06.075_pentax-k-objektiv-på-sony-e-mount-kamera-adapter
Köp 2+ objekt får

10% rabatt

!
Funktioner
• Slät yta för enkelt fäste, Infinity fokus tillåtet.
• Anodiserad aluminiumkonstruktion. Slät yta för enkelt fäste, fint gjord för att vara lätt vikt och stark. Eller enkelt fäste, fint gjort för att vara lätt vikt och stark.
• Kompatibla kameror (inklusive, men inte begränsat till): Sony NEX-3 NEX-3C NEX-3N NEX-5 NEX-5C NEX-5N NEX-5R NEX5T NEX6 NEX7 NEX-F3 a6000 a5000 a3500 a3000 Alpha A7 A7R NEX-VG10 VG20 etc OBS: Denna adapter får INTE plats på Sony a7S, a7 II, a7S II och a7R II.
• Denna linsfästeadapter är tillverkad med hög standardprecision. All metalldesign och polerad yta är utformad för att garantera smidig montering och långvariga upplevelser. Det gör att Pentax K/ PK-linser får plats på en Sony Alpha NEX E-Mount systemkamerakropp.
• Observera: Infinity fokusposition:positionen för oändlighetsmärket 【∞】av teleobjektivet eller super teleobjektivet flyttas något till den positiva sidan för att möjliggöra fokusjustering även när fokusförskjutningen orsakas på grund av temperaturförändringar. Skiftområdet betecknas av en L-formad linje, Var noga med att kontrollera fokus genom sökaren även när du skjuter på oändligheten.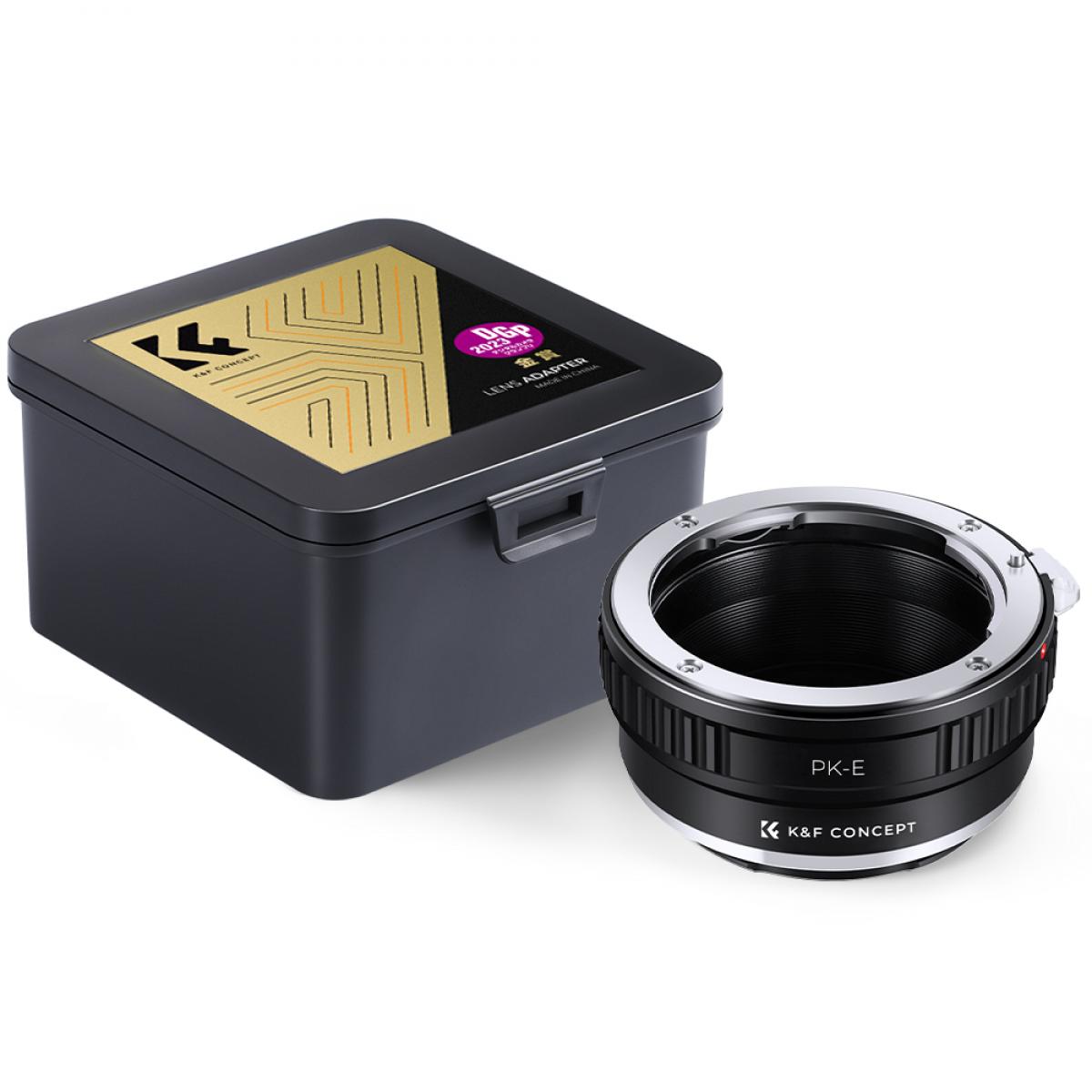 K & F Concept-design och producera komplett utbud av linsadaptrar för att passa linser från Canon, Nikon, Pentax, Olympus, Leica, Contax Yashica, Minolta, Tamron, T2, C-mount, Exakta, M39, M42, Pentacon etc , Nikon, Sony, Fujifilm, Pentax, Micro 4 3, Leica, M42, Cinema C mount etc.

Extremely happy with this
Extremely happy with this. works really well And won't have to spend a fortune replacing all my old Pentax lenses.
08/02/2017
Good build.
Does exactly what I expected, allows me to use my old Pentax lens on Sony e mount camera
11/05/2019
A convenient adapter for PK to Sony E
Well made and strong - nothing flimsy.A little tight on the e-mount side but should loosen up with use.Stops the lens down correctly.
13/03/2019
It works.
It just worked. Did exactly what I expected. I've used this adapter with all my old Pentax lenses and all worked fine. No auto focus but I that's no big problem.
06/09/2018
Works well
Works as advertised! Just the design feels a bit flimsy. Value for money
17/08/2018
These images belong to K&F Concept end users.
There are no faqs for this product.
K&F Lens Adapter + Pentax-M 50mm F1.4 + Sony A6000
Unboxing K&F Concept PK-NEX adapter
Adapter
Kamera
NEX
Lins
PK
Ringmaterial
Comparison of similar products
Rating

91 reviews.

24 reviews.

43 reviews.

16 reviews.

15 reviews.
Price
280 Kr
187 Kr

230 Kr

169 Kr

280 Kr

231 Kr

210 Kr
Model
KF06.075
KF06.061
KF06.069
KF06.112
KF06.132