Canon EF Objektiv på Fuji X Mount Kamera Adapter
Tillverkare:

K&F Concept

Köp K&F Concept canon ef objektiv på fuji x mount kamera adapter online, Gratis frakt världen över och 30 dagar returgaranti.

KF06.061

Artikelnummer:

KF06.061

187

https://se.kentfaith.com/KF06.061_canon-ef-objektiv-på-fuji-x-mount-kamera-adapter
Köp 1000Kr få en 80Kr rabatt på ingen gränskupong
Funktioner
* Tillåt Canon EOS EF, EFS-monteringslinser som används på Fujifilm X-serien kamerahus.
* Kompatibel med Fujifilm kamera inkluderar: Fuji X-A1, X-A2, X-A3, X-E1, X-E2, X-E3, X-M1, X-Pro1, X-Pro2, X-S1, X-T1 X-T10, X-T20, X-T2, X10, X20, X30, XFl, XQl, XQ2 etc.
* Tillverkad av mässing och aluminium. Stabil, exakt och hållbar konstruktion. Manövrerad. Infinansfokus tillåten.
* För tunga mediumformatlinser, föreslår vi att du använder en telefonsamling och ett stativ för att balansera sin vikt vid fotografering.
* 30 dagar ingen anledning, 12 månaders kvalitetsgaranti, 100% tillfredsställande försäkring.
Shipping
&fri frakt till Sweden
Sale
Köp 1000Kr få en 80Kr rabatt på ingen gränskupong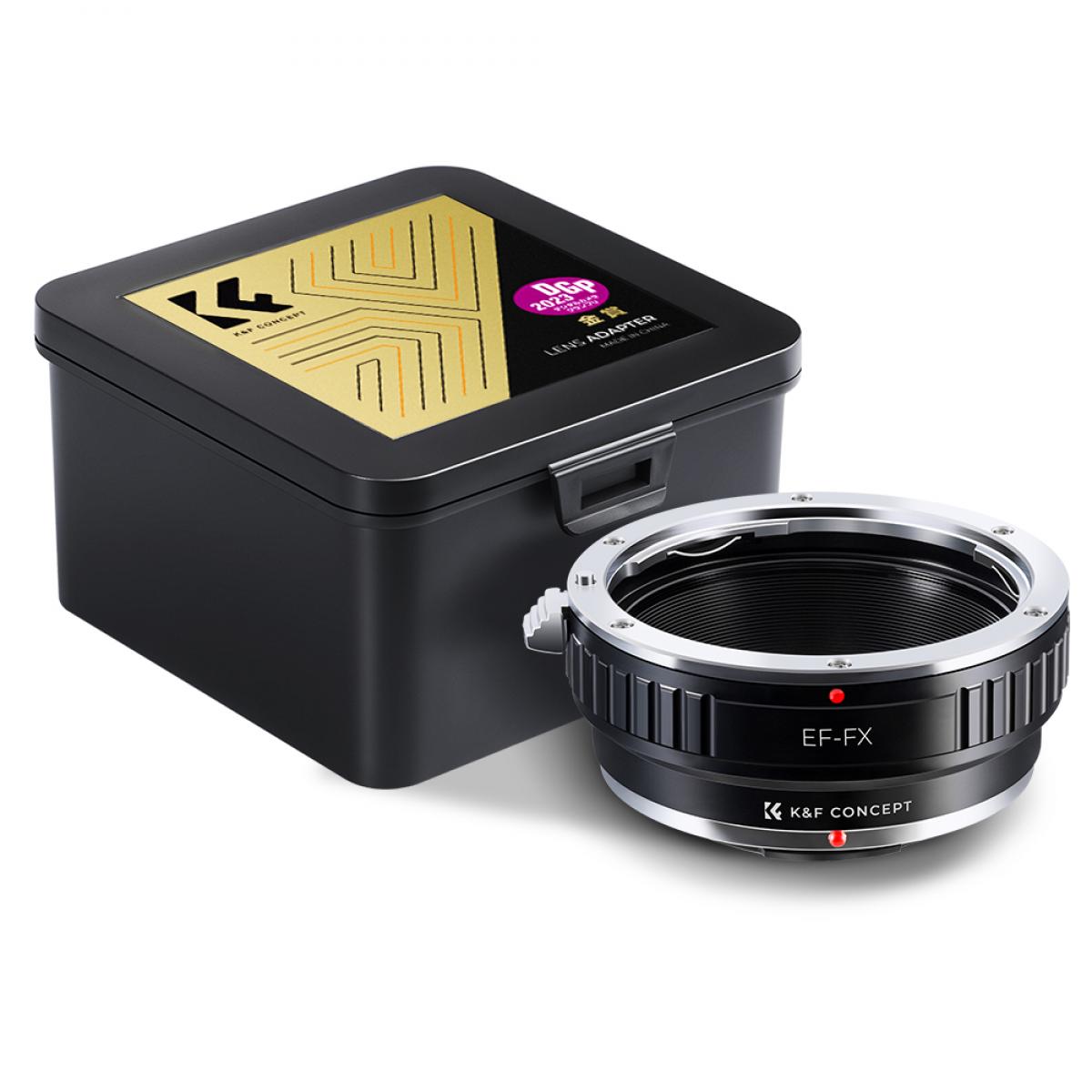 K & F Concept-design och producera komplett utbud av linsadaptrar för att passa linser från Canon, Nikon, Pentax, Olympus, Leica, Contax Yashica, Minolta, Tamron, T2, C-mount, Exakta, M39, M42, Pentacon etc , Nikon, Sony, Fujifilm, Pentax, Micro 4 3, Leica, M42, Cinema C mount etc.

Rating

24 reviews.

5 reviews.

0 reviews.

0 reviews.

11 reviews.

9 reviews.
Price
187 Kr

370 Kr

315 Kr

370 Kr

262 Kr

415 Kr

352 Kr

283 Kr

290 Kr

215 Kr

Model
KF06.061
KF06.306
KF06.128
KF06.386
KF06.449
KF06.148

Kamera

FX
NEX
PK
EOS R
EOS
It does the job
It does what is supposed to do. Recommended
04/04/2020
Slightly better than similar models
I bought this after having already bought another EF-FX adapter which is actually the same unit but sold under a different branding, Beschoi. (This is not unusual; all these generic adapters from China and Korea get sold under multiple different names, just as some cheap lenses also do.) Strangely the one sold by Beschoi, despite looking absolutely identical in every way and measuring the same, fit perfectly on older cameras and extension tubes but was unusually tight on a newer camera. Since I was not the only user to encounter that problem and nobody was reporting the same issue with this K&F-branded version, I decided to take a chance and order this as well.Despite indeed being identical in every single way that I can tell with digital calipers, this K&F one isn't tight on the newer body like the Beschoi one is, while also feeling just as solid on the older bodies and extension tubes. It does indeed seem that Beschoi got a batch which was a tiny fraction of a millimeter different in some imperceptible way and K&F got a faultless batch. This is something I have only experienced with this specific EF-FX model; I have other adapters, ones branded both by Beschoi and K&F, and none of them are any better than others. As far as I can tell the Beschoi and K&F products are exactly the same except for the EF-FX adapters where some tiny, tiny variation has messed up the Beschoi ones on the Fujifilm X-H1 and X-T3 bodies.Other than that, this is the same adapter sold under other names and it doesn't appear to be made of any different materials, no text is any better applied, the lens release switch feels identical, etc. That is to say that it feels like a <£20, basic adapter. This one just happens to fit on one camera body slightly smoother than an other-wise identical one.To that end, I'd advise that for all other mount variations you should shop around and try to get one of the versions with different branding as the K&F branding is more expensive for the same product, but for the EF-FD specifically, the K&F-branded ones are the ones that definitely fit right.
23/08/2019
Good quality adaptor
Really good adapter that matches the quality of both my Canon lenses and Fuji mirrorless camera. Requires an understanding of photographic principles and relationship between aperture, speed and ISO as no electronic connection between camera and lenses when adaptor fitted.
15/08/2019
focus problems
I have bought a the L/M version to use with a Canon 50mm lens F/1.8 STM and a Fujifilm x-a3 but it won't focusCould you help me out?
07/05/2019
Unbelievably brilliant for the price
First off. Ordered 10AM in the morning and it was delivered by Amazon 18:00 that evening, for free, under my Prime membership. No wonder Amazon are now the biggest company in the world with that kind of service. Bravo Amazon.This adapter, I bought the one to connect my Canon lenses to my Fuji XT-2, is superbly brilliant for the price. It is robust, solid in the hand, and the camera and the lenses fit a treat with a reassuring solid click. Equally easy to remove them afterwards as well. Superb. I can't see why you would need to pay any more.You will not get autofocus or auto-aperture, so it's back to manual days folks. And in my view thats a good thing sometimes to go back to basics. But, hey, if you are reading this, it's probably because you want to use older, or cheaper manual lenses anyway. In my case , I wanted to use my superb canon-fit Samyang (Rokinon in the USA) F2 135mm on my Fuji XT2. That lens cost me £150 off of ebay. I also have the Samyang 14mm F2.8 as well. I do get some vignetting with that one when wide open, but that the laws of physics, not the fault of the adapter. Guys, to buy the equivalent Fuji lenses is £1000 each! I also will get one of these for my superb 200mm Minolta lens from 1984.On Fuji XT2 remember to enable focus peaking to help with manual focus and to also enable the "shoot with no lens" option. Google both of these.
28/03/2019
These images belong to K&F Concept end users.
There are no faqs for this product.
Adapter
Kamera
FX
Lins
EOS
Ringmaterial