XV55 55mm Variabelt ND-filter HD ND2-ND400 (9 stopp) Flerskiktsbelagd Grön Film Janpanese Optiskt Glasjusterbart ND-filter för Kameralins (Nano-X II)
507 Kr
530 Kr
4% OFF
Inklusive moms
Tillverkare:

K&F Concept

Fri frakt och 30-dagars retur utan anledning. K&F Concept ND Lens Filter är tillverkat av Japantillverkat toppoptiskt glas och kan justeras 360 grader. Vattentät och reptålig.

KF01.1460

Artikelnummer:

KF01.1460

507

https://se.kentfaith.com/KF01.1460_kf-concept-hd-putter-55mm-nd2-nd400-9-stopp-variabelt-nd-filter-justerbart-vattentätt-reptåligt-för-kameralins-nano-x-ii
Funktioner
• 【Import Optical Glass】Det här ND-filtret tillverkat av japanskt optiskt glas, båda galss sida med beläggning, totalt 32 flerskiktsbeläggning, effektivt minskad reflektion från själva filtret och bländande , vilket säkerställer högkvalitativ bild.
• 【Putter Design】Det här filterramen som är utformad för en putter kan hjälpa dig att exakt justera stoppet, för videoskytteanvändaren kan automatiskt justera stoppet via hjälpverktyg, varje stopp från ND2 till ND400 markeras på ramen bekvämt för 360 grader roterat för att justera stoppprogrammet, multiscenapplikationen. ND-filter används inte bara för landskapsfotografering, utan också för porträtt- och dokumentärfotografering. ND-filter kan ta porträttfoton med dynamisk bakgrund.
• 【Vattentät & Reptålig】 Båda glassidorna i K&F Concpet ND-filter med vattentät, oljefast och reptålig beläggning i flera lager, som skyddar nd-filtret från alla runda, lämpliga för äventyr.
• 【Nej Vignetting & Dark Corner】För filtret utformat med ultravidvinkeldesign, den ultratunna ramen endast 7,6 mm, som stöder 16 mm telefoto och vidvinkellins ingen vinjettering , på grund av de olika i linstyp och brännvidd så att detta filter kan mötas mörkt "X" -kors , det här är inte kvalitetsproblem , det kan försvinna via att rotera filtret.
• 【Note】Det här filtret är kompatibelt med alla 55mm-objektiv. Kontrollera kamerans linsgängstorlek innan du beställer. Kamerans linsgängstorlek markeras någonstans på linspipan eller skrivs ut under objektivlocket. Detta tal föregås alltid av en symbol med "ø" (diameter).
Variabel ND2-ND400 med Putter
Optiskt glas HD/vattentätt/reptåligt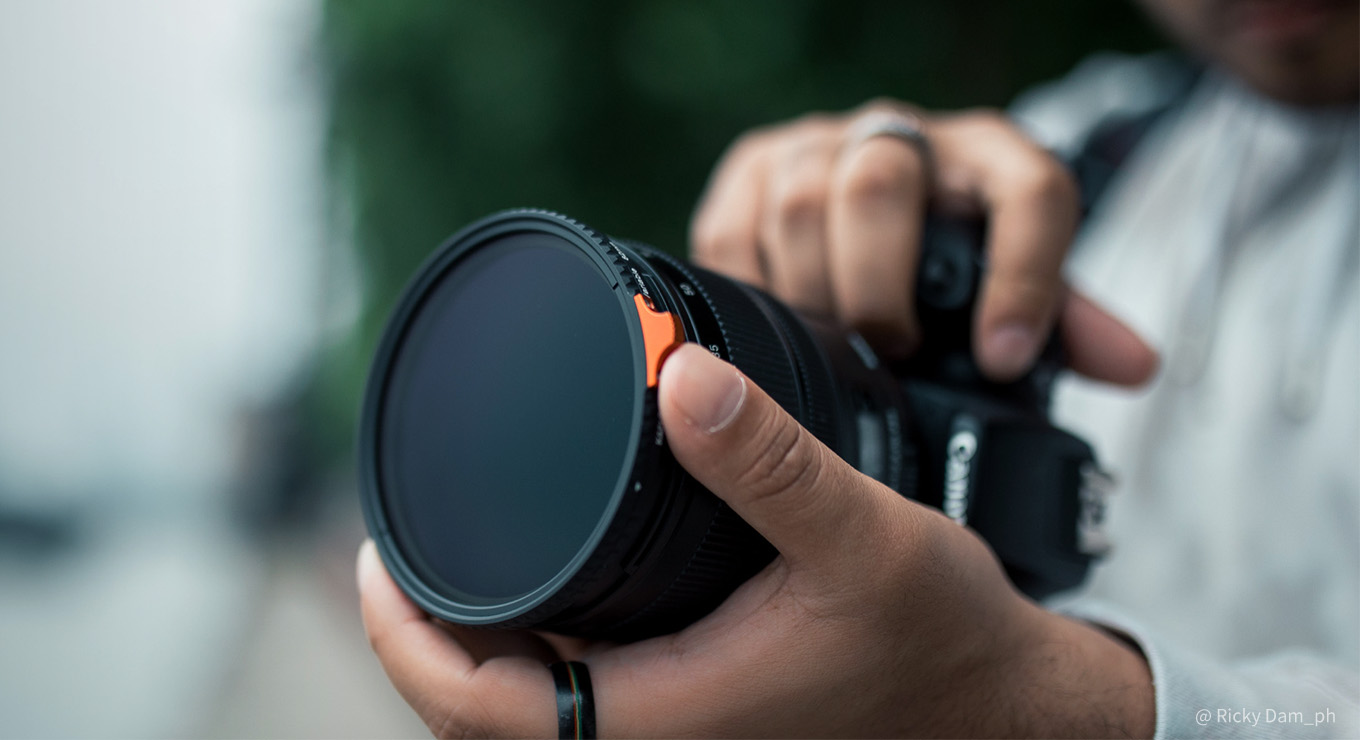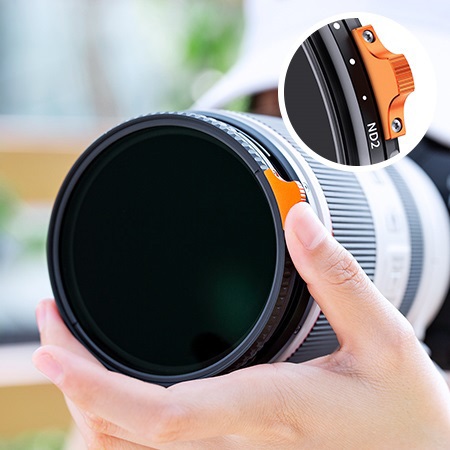 Putter Design
Denna exklusiva putterdesign för bekvämlighet att rotera filterstoppet vid fotografering eller videoinspelning.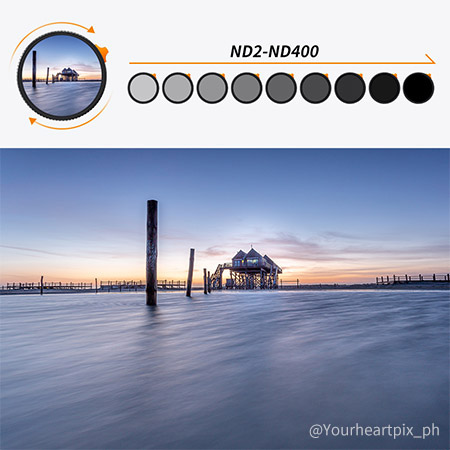 9 Stoppar justerbara
Det låter dig ha kontinuerlig kontroll över mängden ljus som kommer genom ditt objektiv i ett ungefärligt intervall på 1 (ND 0,3) till 9 (ND 2,7) stopp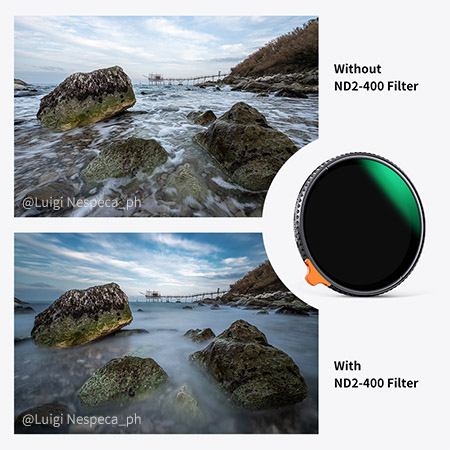 Med ND2-400 filter
Minska mängden ljus som kommer in i objektivet och minska därmed kamerans slutartid. Lämplig för situationer som behöver skapa rörelseoskärpa (flod, vattenfall, rörliga människor)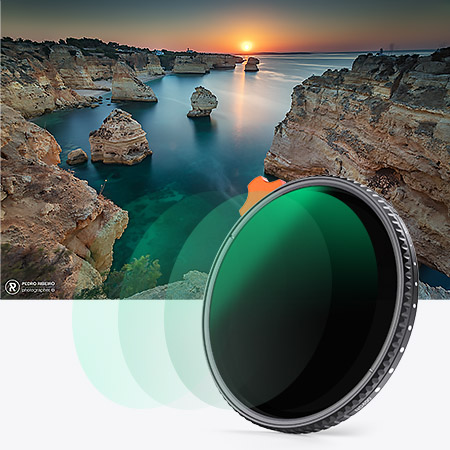 HD -bildkvalitet
Tillverkad med japanskt importerat optiskt glas med K&F Concept Nanotec -teknik.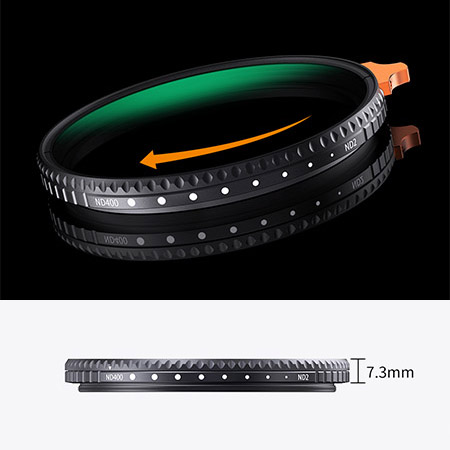 Ultra Slim - 7,3 mm
Unltra smal ram stöder ingen vinjettering med 16 mm brännvidd. Större prick, starkare dimning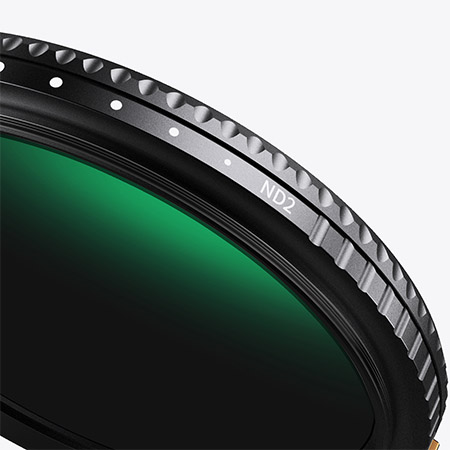 CNC halkfri design
CNC-halksäker design kan hjälpa dig att enkelt installera och ta av filtret.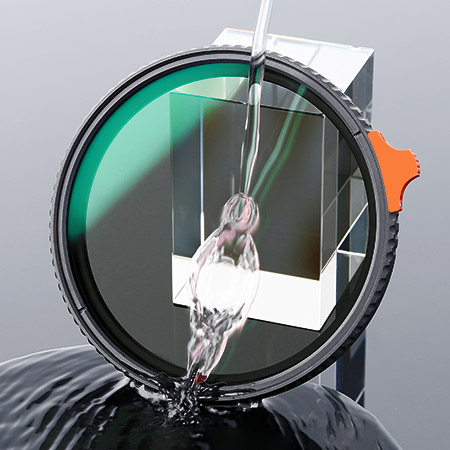 Vattentät
Även vattnet som spillts på glas kan lätt torkas, lätt för rengöring och bärning, även med dimfunktion.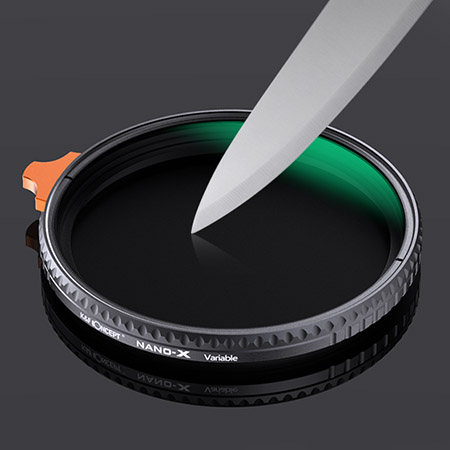 Rep tålig
Med reptålig i båda glasen, oroa dig inte för skador.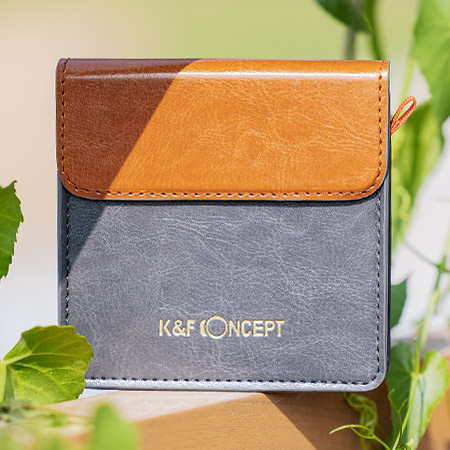 Professionell förpackning
Detta ND -filterhus tillverkat av PU -läder.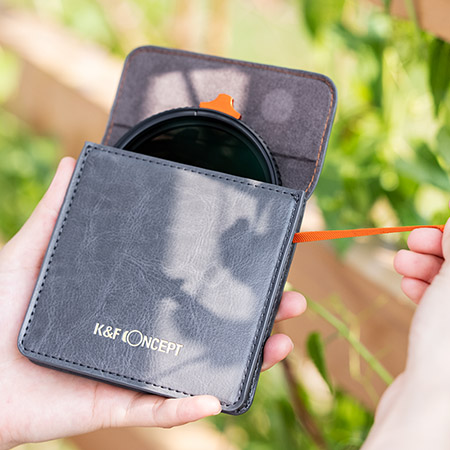 Väska
Design med sidodragning kan enkelt ta ut filtret.
Rating

3 reviews.

80 reviews.

43 reviews.

4 reviews.

16 reviews.

43 reviews.
Price

530 Kr

507 Kr

246 Kr

849 Kr

449 Kr

626 Kr

520 Kr

159 Kr

145 Kr

524 Kr

241 Kr

Model
KF01.1460
SKU0127
KF01.1146
KF01.1064
KF01.1313
SKU0128

Storlek

67 mm
100*100mm
82 mm
58mm
72 mm

Genomskinlighet

∕
0.0156
∕
∕
∕

Multi-Beläggning

√
√
√

Antireflektion

√
√

Vattentät

√
√

Reptålig

√
√

Hd

√
√

Filtermaterial

Optiskt glas
Optiskt glas
Optiskt glas
Optiskt glas
Optiskt glas

Mönster

√
√

Filtrets Tjocklek

7.0mm
2.0mm
7,3 mm
5,5 mm
7.0mm

Form

Cirkel
Kvadratisk
Cirkel
Cirkel
Cirkel

Ringmaterial

Flygaluminiumlegering
Optiskt glas
Flygaluminiumlegering
Flygaluminiumlegering
Flygaluminiumlegering
I was afraid that it would have problems as it is a variable ND with weird effects, and zero problems. Neither in the corners, nor at ND400, the truth is that a pleasant surprise for its price. It can have a little green tint, but with a correction of nothing in Premiere I have solved it, between 5 and 10 points in the tint tab towards magenta and ready. Highly recommended, it only needs to have a top like the ND2 and ND32 models that I usually use.

Translated with www.DeepL.com/Translator (free version)
22/08/2021
KF products have always been great value for money, but these latest generations have made an incredible leap in quality. I've been using a predecessor of this filter for years to shoot outdoor video. This one has surpassed it. Good construction, great presentation in these leatherette cases they now come with and perfect results.
The orange knob (the brand's trademark colour) makes it easy to change the intensity of the ND at any time.
A 10!

Translated with www.DeepL.com/Translator (free version)
20/08/2021
This is a great filter,
Have several k&f filters and the quality is fantastic,
Overall a recommend buy
17/08/2021
These images belong to K&F Concept end users.
ND Variabile Filter 2-9 Stop - K&F ND2 ND400 HD NANO-X II