XV37 49mm Ultratunn Variabel Justerbar ND2 - ND32-Filter Gradvis Blekning Neutral Density Lens Filter Nanobeläggning Vattentät No Punkt X Svart X-Problem
370 Kr
556 Kr
33% OFF
Inklusive moms
Tillverkare:

K&F Concept

K&F ultratunna variabel justerbara gradvis bleknande neutrala densitetsfilter ND2 ND4 ND8 ND16 till ND32 Linsfilter NO punkt X svart X-problem

KF01.1166

Artikelnummer:

KF01.1166

370

https://se.kentfaith.com/KF01.1166_49mm-fader-nd-filter-neutral-density-variable-filter-nd2-till-nd32-för-kameralins-no-x-spot-nanotec-ultra-slim-weather-sealed
Funktioner
* 【Ingen mörk kors på bilder】Säg adjö till mörkrets kors på bilder, K&F använder banbrytande teknik du kommer att säga adjö till denna vanliga fråga med vidvinkellinser och variabla ND-filter. På grund av uppdateringen av produktens paket skickas den nya och den gamla versionen slumpmässigt.
* 【Material】 ND-filter: Tillverkad av färdiga professionella optiska glasögon istället för optiskt harts. minskar intaget av ljus utan att påverka den totala färgbalansen. För detta 49mm ND-filter bör linslocket /huven vara 49mm.
* 【NANOTEC】Vår optiska ingenjörer utvecklade ny Nano-beläggningsskiktsteknik, vattentät, reptålig, antireflekterande grön beläggning, effektivt förhindra från olja, fingeravtryck, repa, skydda värderad lins.
* 【Professionell design】ultra slim fälg design förhindrar vidvinkelvinjettering. Extra tuff aluminiumram för luftfart som säkerställer hållbarhet och förebyggande av störning.
* 【NOTE】Dnr filtersats är kompatibel med alla 49 mm linser. Kontrollera kamerans linsgängstorlek (vanligtvis markerad någonstans på linspipan eller tryckt under linslocket) innan du beställer. Talet föregås alltid av en symbol med "ø" (diameter).
ND FILTER
Minskar mängden ljus som kommer in i linsen, vilket minskar kamerans slutartid. Användbar för situationer där rörelsesutsläpp måste skapas (floder, vattenfall, flyttande personer) eller stora öppningar måste användas med blixt för att undvika överexponering.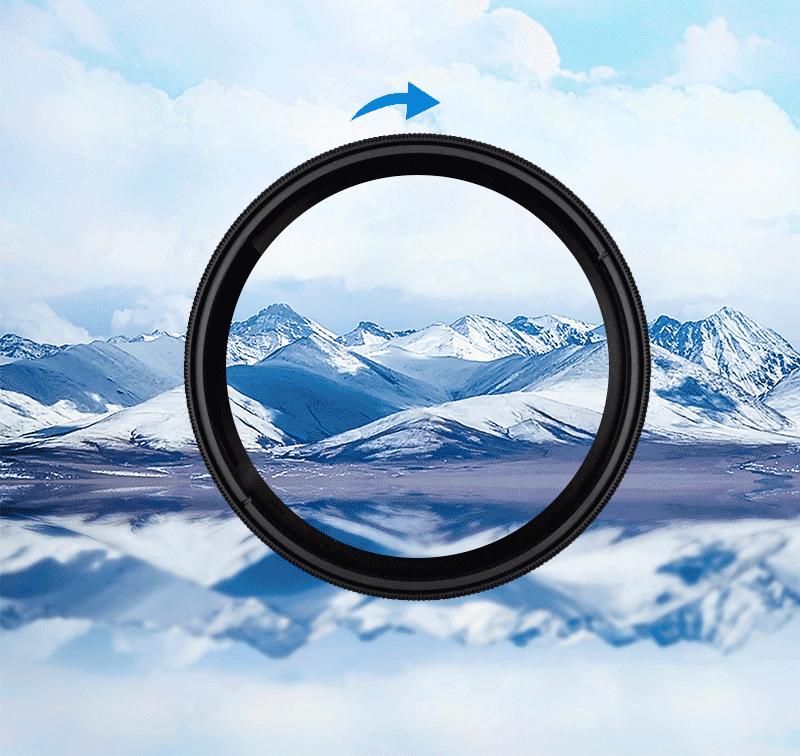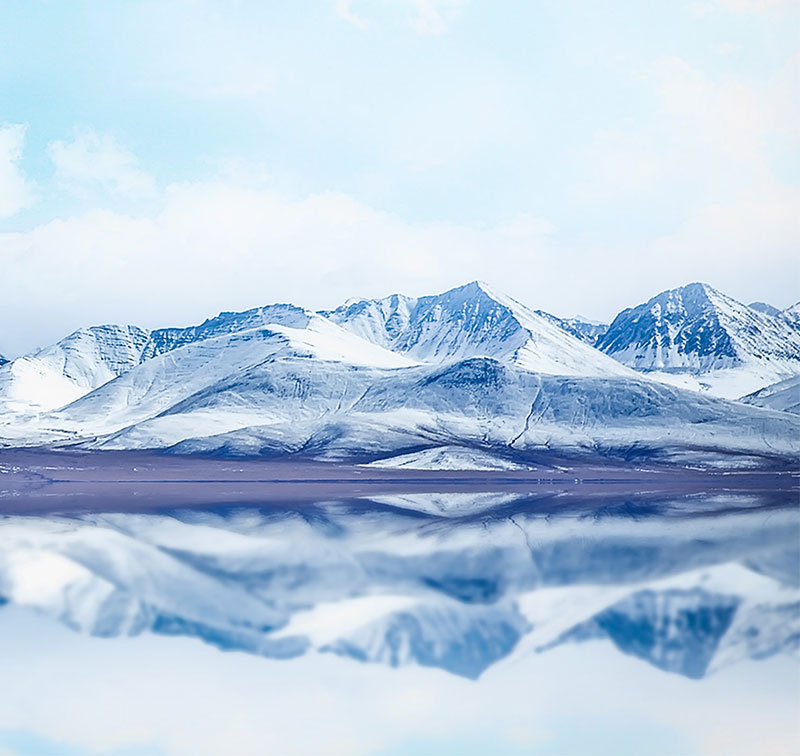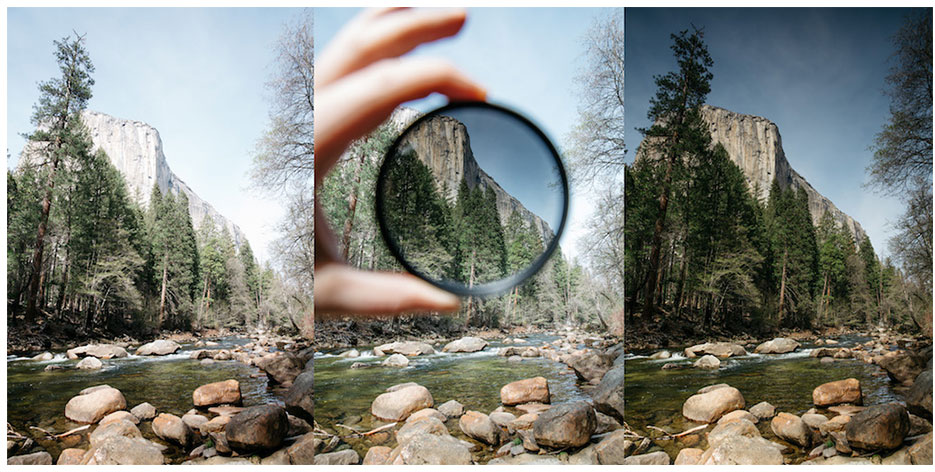 Utan ND Filter
Använd Kontrast
Med ND Filter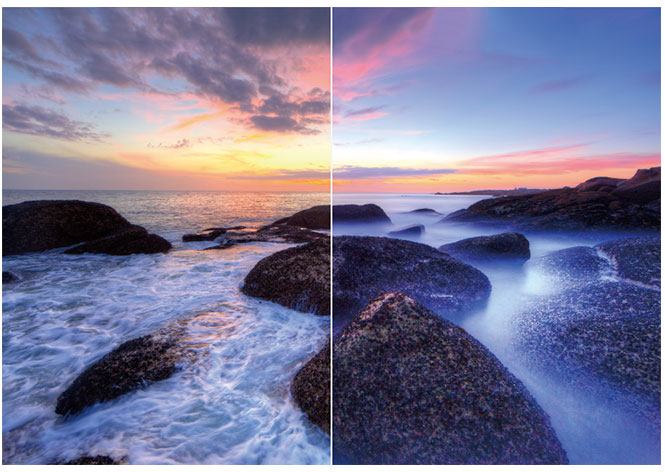 Utan ND Filter
Med ND Filter
Aktiverar långsamma slutartider för att registrera rörelse i ämnen som vattenfall, vilket ger en silkeslen påverkan på rinnande vatten.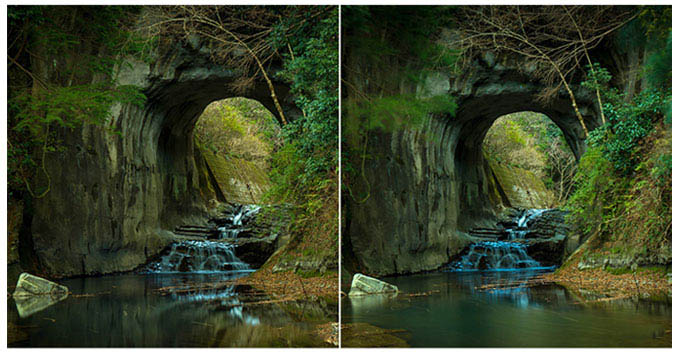 Utan ND Filter
Med ND Filter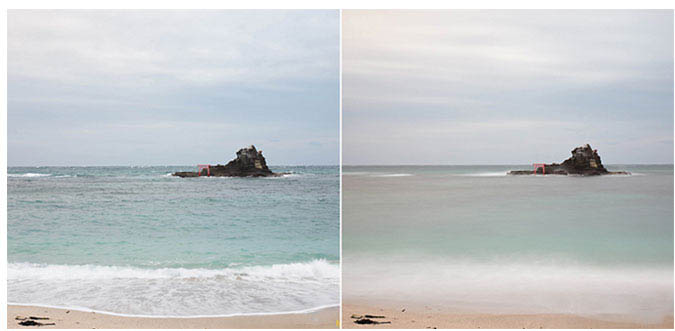 Utan ND Filter
Med ND Filter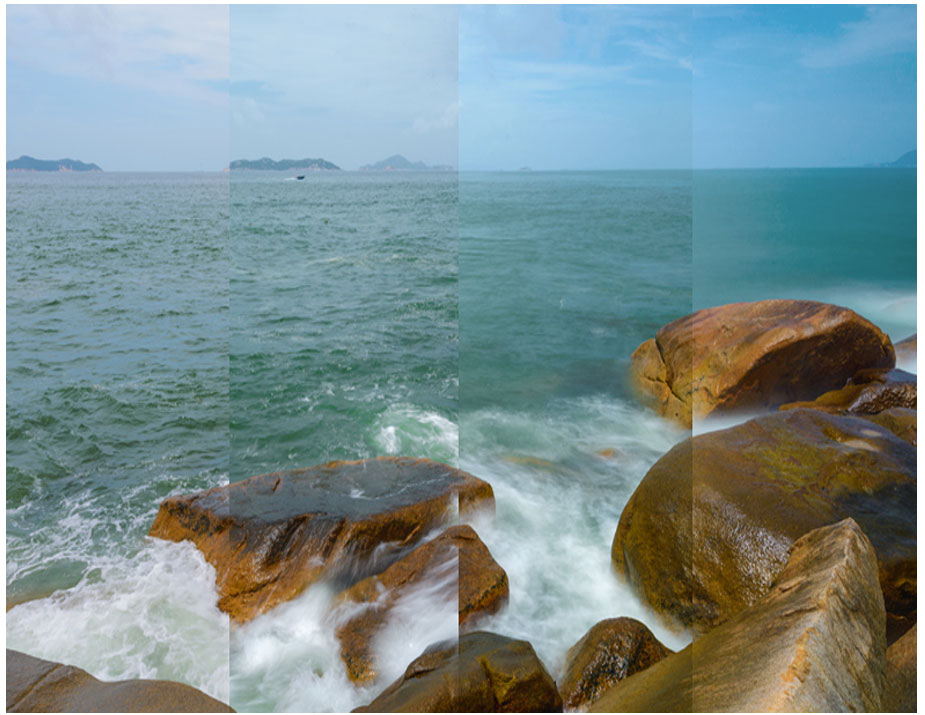 INGEN ND
ND8
ND64
ND1000

Inget filter
ND2
ND4
ND8
ND16
ND32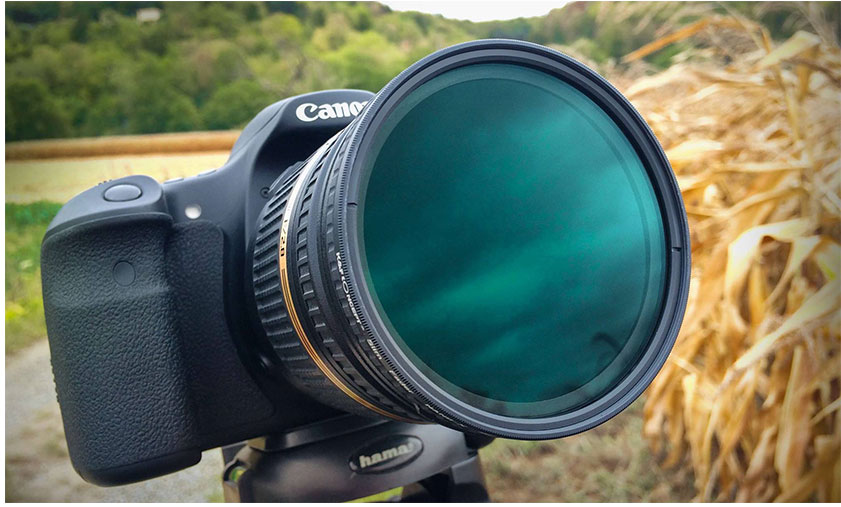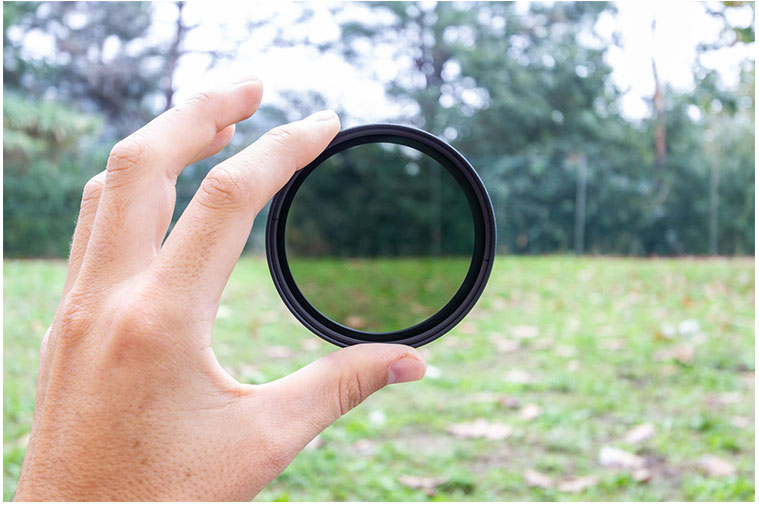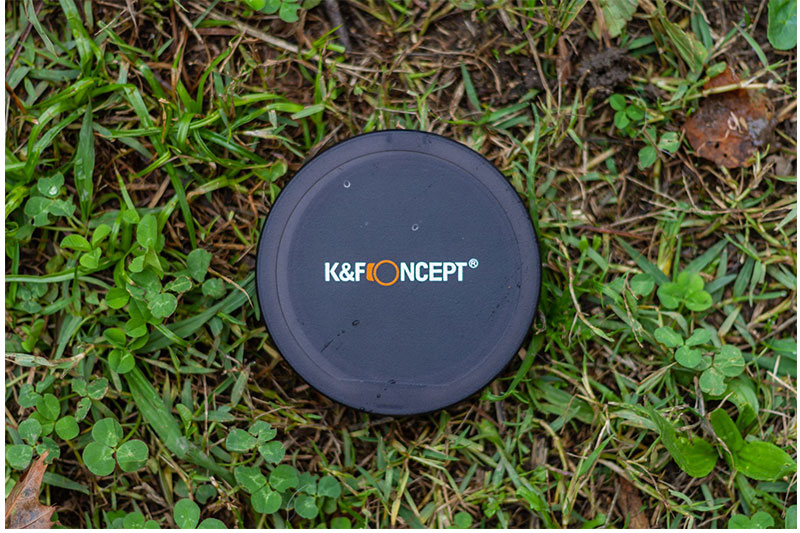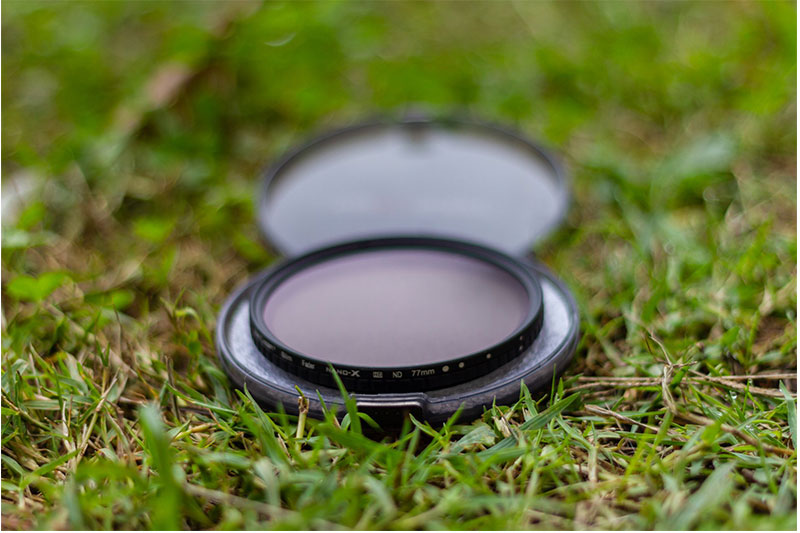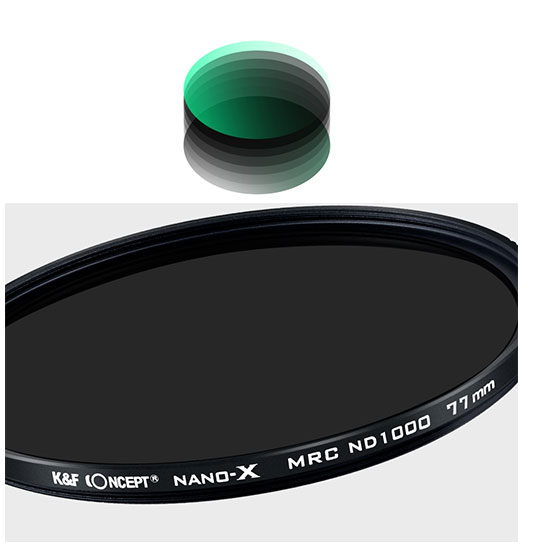 Flera skikt nanometerbeläggning
Reduktion av reflektion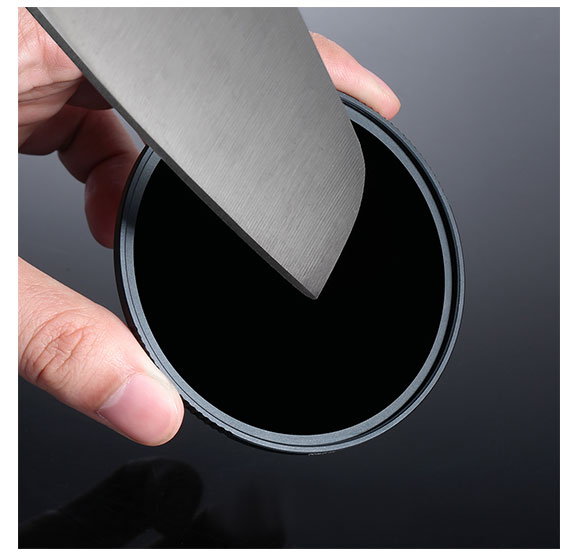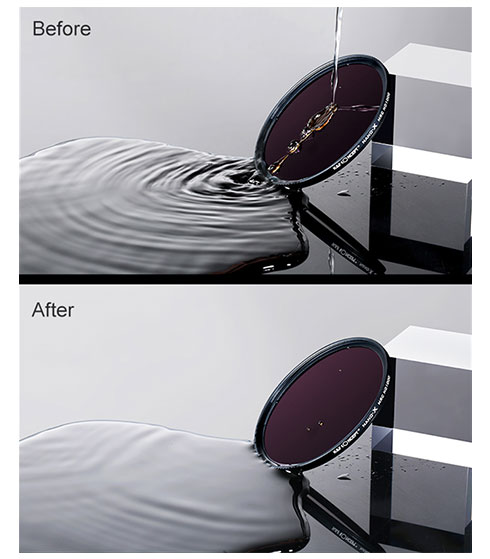 Nanometerbeläggning
Medger långsamma slutartider som kan användas för att registrera rörelse i ämnen som vattenfall, vilket ger en silkeslen effekt på flytande vatten.
NDnumber
Optisk densitet
f-stop reduktion
Fraktionell transmittans
0
0
100%
1
ND2
0,3
1
50%
0,5
ND4
0,6
2
25%
0,25
ND8
0,9
3
12,50%
0,125
ND16
1,2
4
6,25%
0,0625
ND32
1,50
5
3,13%
0,03125
ND64
1,8
6
1,56%
0.015625
ND100
2
. 6 2 / tre
1%
0,01
ND128
2,1
7
0,78%
0.0078125
ND256
2,4
8
0,39%
0.00390625
ND400
2,6
. 8 2 / tre
0,25%
0,0025
ND512
2,7
9
0,20%
0,001953125
ND1024 / ND1000
3
10
0,10%
0,001
ND2048
3,3
11
0,05%
0,000488281
ND4096
3,6
12
0,02%
0,000244141
ND6310
3,8
12 är två / tre
0,02%
0,000158489
ND8192
3,9
13
0,01%
0.00012207
ND10000
4
13 är . Ett / tre
0,01%
0,0001
ND100000
5
16 2 / tre
0,00%
0,00001
Rating

5 reviews.

2 reviews.

3 reviews.

29 reviews.

8 reviews.

5 reviews.
Price

556 Kr

370 Kr

481 Kr

370 Kr

535 Kr

412 Kr

535 Kr

442 Kr

463 Kr

571 Kr

381 Kr

Model
KF01.1166
KF01.1058
KF01.1060
KF01.1061
KF01.1062
KF01.1162

Storlek

49mm
52mm
62mm
67mm
72mm
37mm

Genomskinlighet

∕
∕
∕
∕
∕
∕

Multi-Beläggning

√
√
√
√
√
√

Antireflektion

√
√
√
√
√
√

Vattentät

√
√
√
√
√
√

Reptålig

√
√
√
√
√
√

Hd

√
√
√
√
√
√

Filtermaterial

Optiskt glas
Optical glass
Optical glass
Optical glass
Optical glass
Optiskt glas

Mönster

√
√
√
√
√
√

Filtrets Tjocklek

7,3 mm
7.3mm
7.3mm
7.3mm
7.3mm
7,3 mm

Form

Cirkel
Circle
Circle
Circle
Circle
Cirkel

Ringmaterial

Flygaluminiumlegering
Aviation aluminum alloy
Aviation aluminum alloy
Aviation aluminum alloy
Aviation aluminum alloy
Flygaluminiumlegering
Great for motion blur and wide aperture video
I'm always dubious when it comes to filters as I have seen some cheap ones in that past that really degrade image quality. This neutral density film seems really good though.It seems well made and screws on nicely on my canon EF-M lenses. The twisting adjuster works easily and smoothy and has the various stops marked on it.Performance is really good too. There doesn't seem to be a vignette or any other visible marks or patches on photos. The photos seem to be just as sharp and have the same quality as when shooting without the filter. I can't tell any difference. It comes in a nice holder although this is way bigger then the filter itself.The range of stops on the filter is good too and helps to slow things down for some major motion blur. It also works well for open aperture video. For the price I am really impressed with the quality and results.
29/12/2019
I have an ND 400 that I use for waterfalls etc but do not always want to block that much light so was looking for something a little faster Maybe an ND16.

I have had variable filters in the past but have never been happy the dreaded Xs on the screen when you rotate or uneven colour cast across the screen.

I saw the K&F advertised claiming that you did not get any of thease issues so thought I would try and they are great, very even light reduction across the frame and no Xs.

I have the 77mm filter it is really well made there are stops on the rotation so it it easy to tell where the limits are, the frame itself is slightly larger that the 77mm so no chance of vignetting in the corners, the slight disadvantage of this is I can not seem to fit the filter with my hood in place but not a huge deal.

Highly recommended.
24/08/2021
Best for the price
No vignette and very easy to use.. You can feel it on your hand and easy to adjust. Have some stops in both ends so much better than many other solutions
23/06/2021
Presentation is everything
I knew as soon as I opened the envelope I had bought a quality item. Inside the gorgeous black outer box is a round acrylic container which flips open at the press of a button. The Filter rests on its foam bed. It looks like quality, it feels like quality.Anyone that shoots video using a DSLR knows about camera settings and the limitations this creates in brightly lit environments. This can become a bigger problem if, like me, you like to shoot with the aperture wide open on a fast lens. It was almost impossible to do outside scenes on brighter days. To say I'm very pleased is an understatement.Pros:High quality, no dreaded X or aberrations and it only cost £36. I expected a lens of this quality to cost much much more.Cons:To be honest, there aren't any. No, I can't put the lens cap on when the filter is in place, but it's no big deal to unscrew it and place it back in its case.I am just an amateur film maker so my word counts for nought among photographers. From a film maker's point of view, however, this is a great bit of kit to have in your bag and for the money, you can't go wrong.
12/05/2020
Great Variable ND for the money
Using this on my Sony A7R3 for video workReally easy to adjustND2-32 allows you to get the 180' shutter angle quicklyComes in really high quality packagingNo X's appear on video when in useBeen out shooting in bright sunlight, really happy with the results from this ND
26/03/2020
These images belong to K&F Concept end users.
Filter
Storlek
49mm
Genomskinlighet
∕
Multi-Beläggning
√
Antireflektion
√
Vattentät
√
Reptålig
√
Hd
√
Filtermaterial
Optiskt glas
Mönster
√
Filtrets Tjocklek
7,3 mm
Form
Cirkel
Ringmaterial
Flygaluminiumlegering