Filter ND Variabel 72mm ND2-ND32 Neutral Densitet Nano-X
Tillverkare:

K&F Concept

Köp K&F Concept filter nd variabel 72mm nd2-nd32 neutral densitet nano-x online, Gratis frakt världen över och 30 dagar returgaranti.

KF01.1062

Artikelnummer:

KF01.1062

463

https://se.kentfaith.com/KF01.1062_72-mm-nd2-nd32-variabelt-nd-filter-18-layer-multi-coated-glass
Köp 2+ objekt får

10% rabatt

!
Funktioner
• Gjord av optiska glasögon, minskar ljusintaget utan att påverka den totala färgbalansen.
• Nano-beläggningsteknik, vattentät, reptålig, antireflekterande grön beläggning, effektivt förhindra olja, fingeravtryck, repor, skydda värderad lins.
• INGEN "X" kors på bilder.
• Ultra slim fälg design som hindrar vinkel vignettering. Extra hård luftfart aluminiumram som garanterar hållbarhet och störning.
ND FILTER
Minskar mängden ljus som kommer in i linsen, vilket minskar kamerans slutartid. Användbar för situationer där rörelsesutsläpp måste skapas (floder, vattenfall, flyttande personer) eller stora öppningar måste användas med blixt för att undvika överexponering.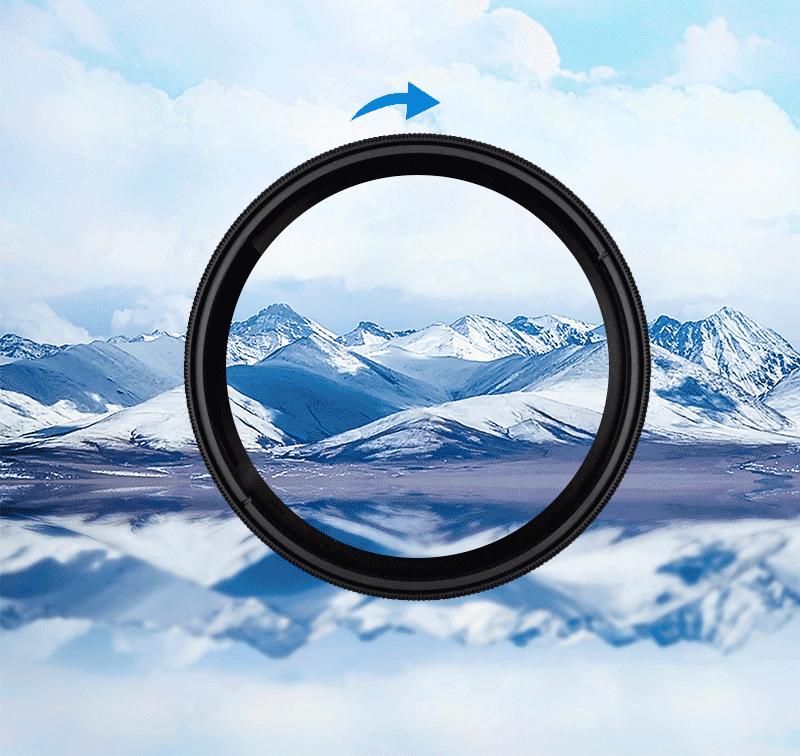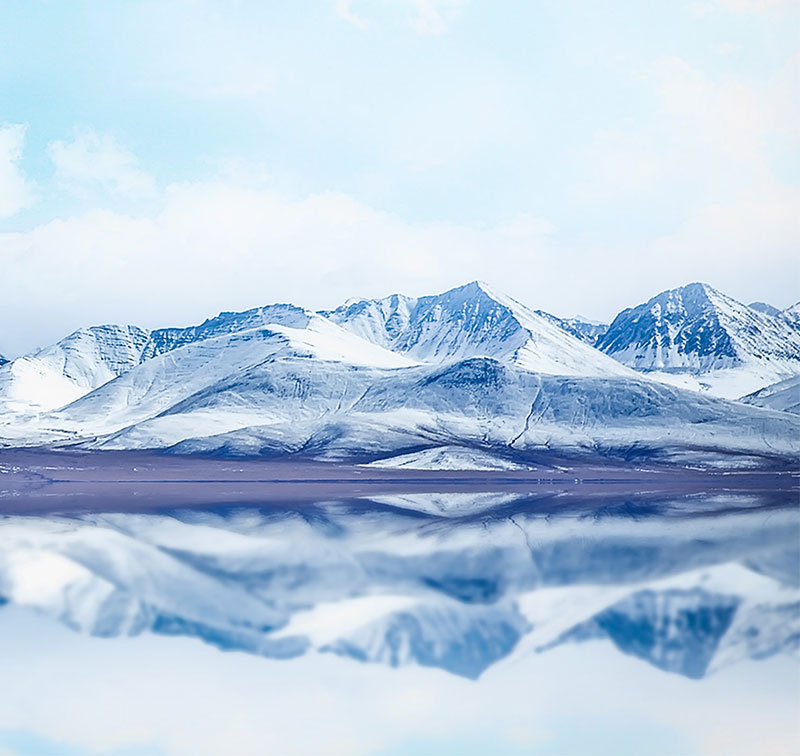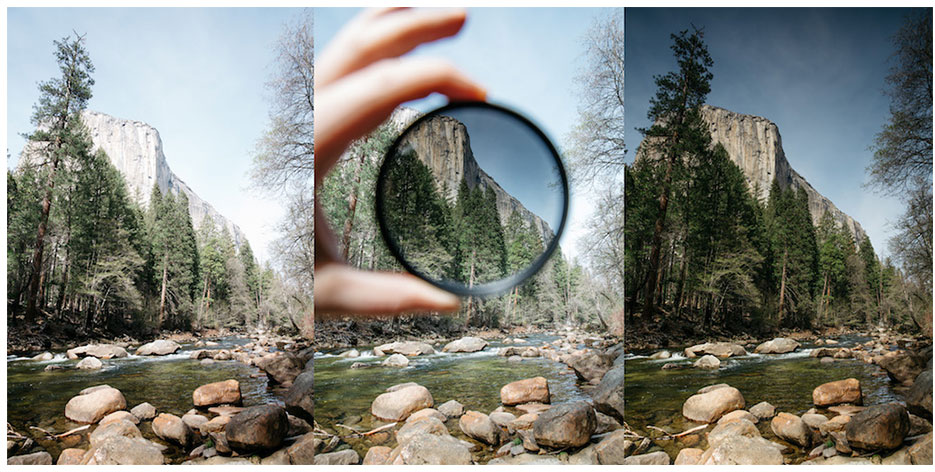 Utan ND Filter
Använd Kontrast
Med ND Filter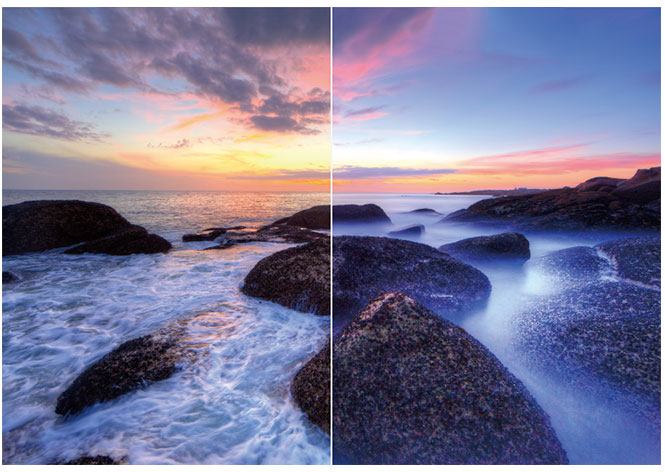 Utan ND Filter
Med ND Filter
Aktiverar långsamma slutartider för att registrera rörelse i ämnen som vattenfall, vilket ger en silkeslen påverkan på rinnande vatten.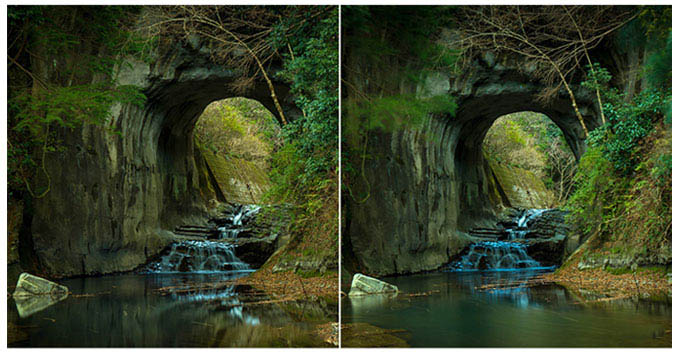 Utan ND Filter
Med ND Filter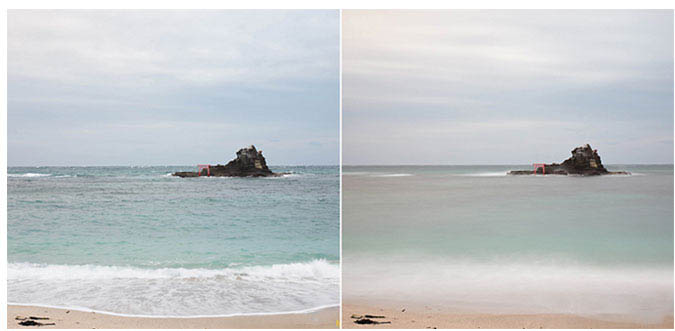 Utan ND Filter
Med ND Filter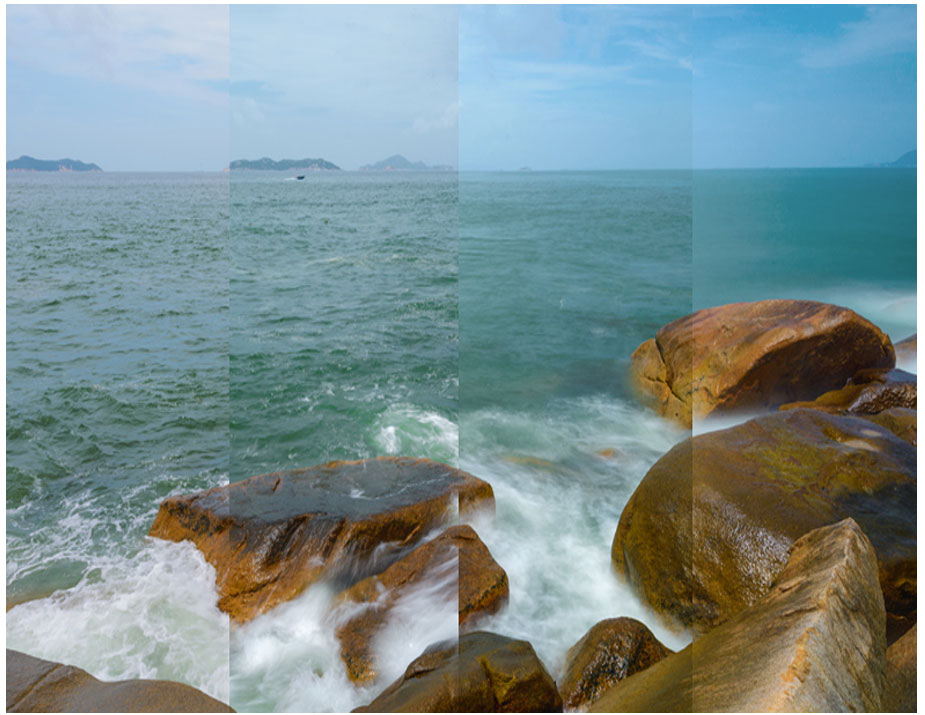 INGEN ND
ND8
ND64
ND1000

Inget filter
ND2
ND4
ND8
ND16
ND32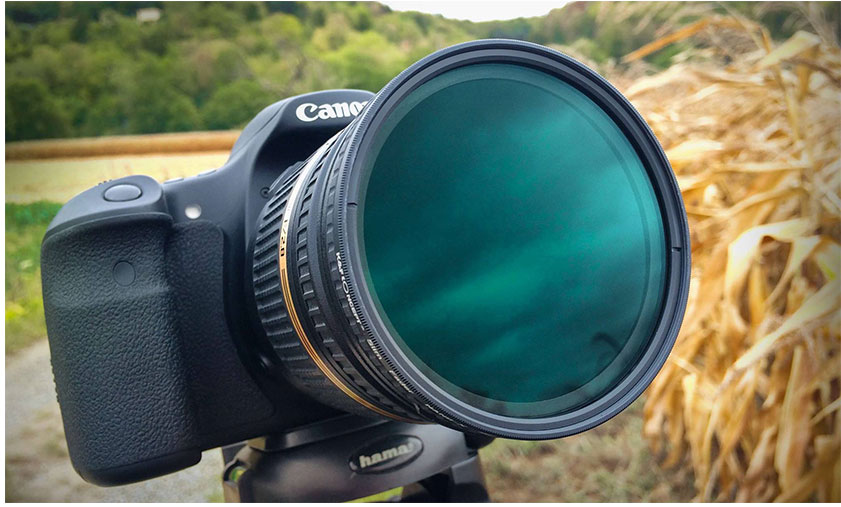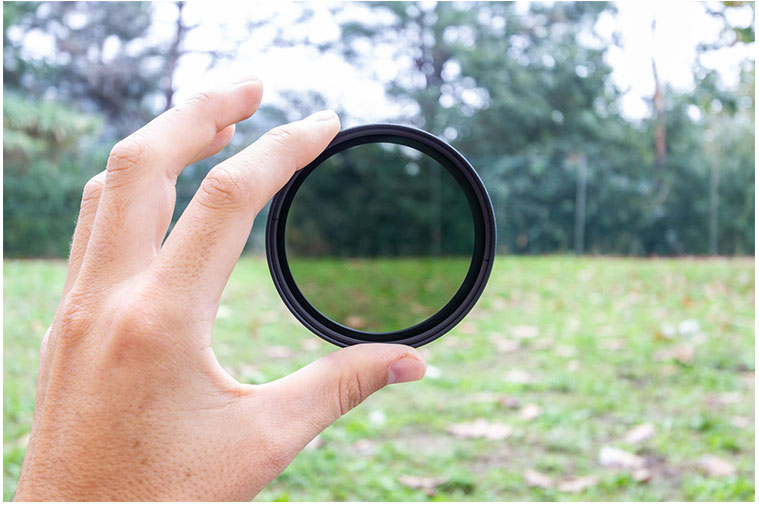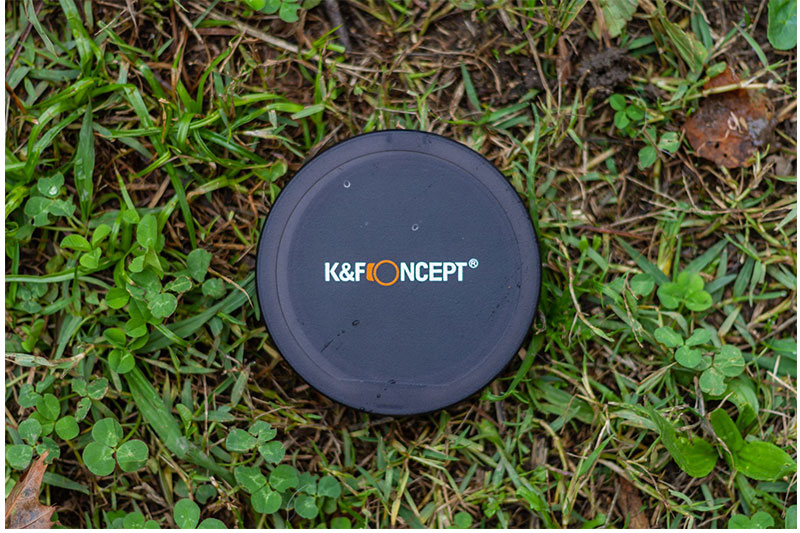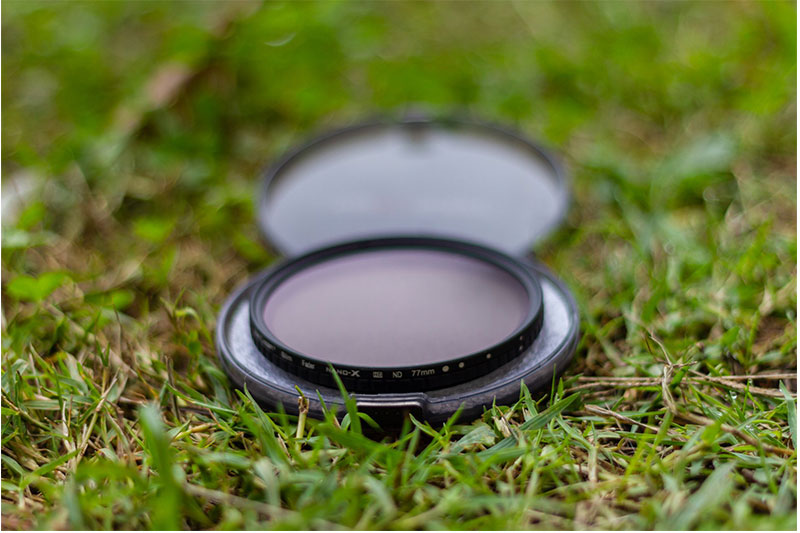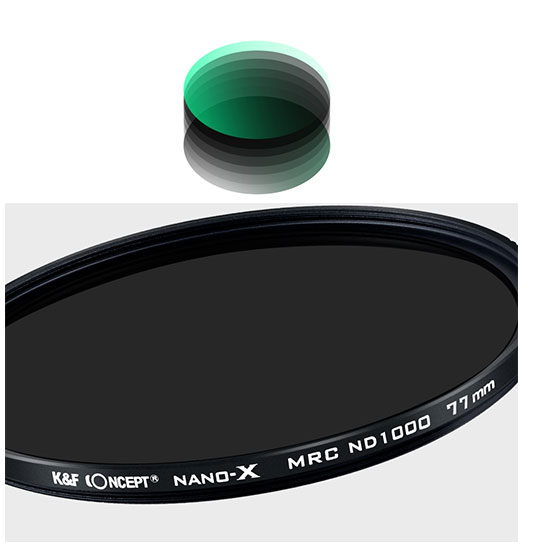 Flera skikt nanometerbeläggning
Reduktion av reflektion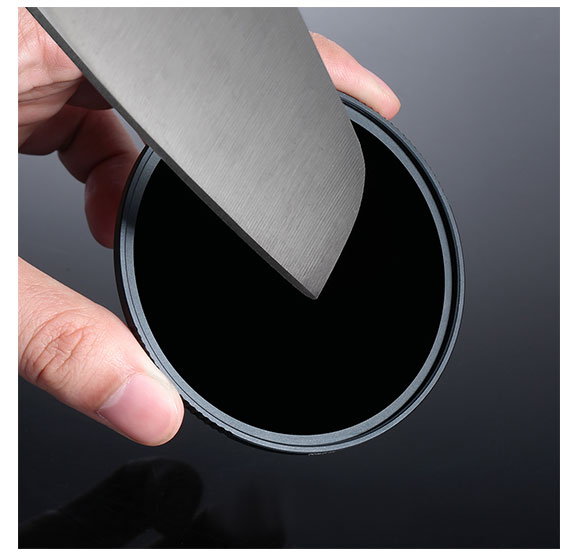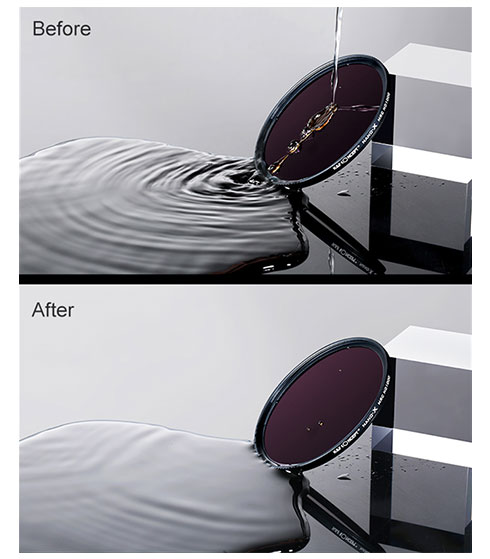 Nanometerbeläggning
Medger långsamma slutartider som kan användas för att registrera rörelse i ämnen som vattenfall, vilket ger en silkeslen effekt på flytande vatten.
NDnumber
Optisk densitet
f-stop reduktion
Fraktionell transmittans
0
0
100%
1
ND2
0,3
1
50%
0,5
ND4
0,6
2
25%
0,25
ND8
0,9
3
12,50%
0,125
ND16
1,2
4
6,25%
0,0625
ND32
1,50
5
3,13%
0,03125
ND64
1,8
6
1,56%
0.015625
ND100
2
. 6 2 / tre
1%
0,01
ND128
2,1
7
0,78%
0.0078125
ND256
2,4
8
0,39%
0.00390625
ND400
2,6
. 8 2 / tre
0,25%
0,0025
ND512
2,7
9
0,20%
0,001953125
ND1024 / ND1000
3
10
0,10%
0,001
ND2048
3,3
11
0,05%
0,000488281
ND4096
3,6
12
0,02%
0,000244141
ND6310
3,8
12 är två / tre
0,02%
0,000158489
ND8192
3,9
13
0,01%
0.00012207
ND10000
4
13 är . Ett / tre
0,01%
0,0001
ND100000
5
16 2 / tre
0,00%
0,00001
This is a great option for outdoor shooting whether it be photo or video. You can easily just twist the filter to change the amount of light going into the lens and it's much easier than having to keep changing out different strength filters or using a 4x4" filter piece like a Cokin filter. There is no vignetting or "X" pattern that can show up in other models. This is very easy to use, even for the beginner and is a great thing to have when you want to travel lighter and plan on shooting outside.
24/08/2021
I love this filter great for Photo & video.
But at 10mm on my 80D Crop sensor it casts a shadow above.
if I zoom in a bit like 14mm it goes away.

NO X, No Color cast. Great Filter... As Advertised. and Great Build...
23/08/2021
Got into photography recently and always wanted to take exposure shots but was unable to do it without this filter after doing some research online. It screws on top of the lens protector and I can even mount my lens cap on top of it.

Like the fact that it is adjustable to whatever kind of photos I want to take depending on time of day and sun's position. I took a 2 second exposure shot of Niagara falls and it turned out well. I also added a still photo for comparison.

Will be doing more exposure shots I keep getting better every day after trial and error, must buy if you are into exposure photography you will not regret this purchase.
19/08/2021
I shoot with the Fujifillm X-T3 which arguably is the best video camera under $3000. However it lacked the variable ND filters that you would find built in to more professional video camera. I needed some more motion blur and lower my exposure when shooting video and this does it amazingly without any noticeable loss of details and colors. For the price this is a very valuable tool in my arsenal. The build quality is really nice with an all metal construction. The ring itself is smooth and allows for a nice variable exposure change. I really dig this ND filter and I think anyone should take a look at this since the image it produces are pretty clean.
19/08/2021
Holy smokes! This thing is a fraction of the price and way better than the SLR 82mm and the Singh-Ray 82mm variable Nd filter I purchased. Seriously did not think a $60 filter would beat out a $400 Singh-Ray. I'm using this on a Sony A7riii with a 24-70 2.8 G Master and there's no color distortion. There is a very very very slight vignette in the first 2-3 mm of each corner but that's far less than the Singh-Ray and SLR. Plus there's no X.
18/08/2021
These images belong to K&F Concept end users.
A
very good filter, especially for this price
A
I did not measure the front, I made sure it screws nicely to my 82 mm lens, and use step-down ring to use it on my 72 mm, I am not aware of a lens cap that can be used on it, my 82 mm lens cap does not fit on it.
Filter
Storlek
72mm
Genomskinlighet
∕
Multi-Beläggning
√
Antireflektion
√
Vattentät
√
Reptålig
√
Hd
√
Filtermaterial
Optical glass
Mönster
√
Filtrets Tjocklek
7.3mm
Form
Circle
Ringmaterial
Aviation aluminum alloy
Comparison of similar products
Rating

8 reviews.

0 reviews.

5 reviews.

16 reviews.

8 reviews.

9 reviews.
Price
463 Kr

542 Kr

487 Kr

324 Kr

116 Kr

126 Kr
560 Kr
190 Kr
Model
KF01.1062
SKU1547
KF01.1310
KF01.1313
KF01.973
KF01.968

Storlek

72mm
49mm
58mm
77mm
67mm

Genomskinlighet

∕
∕
∕
∕
0.99

Multi-Beläggning

√
√
√
√
√

Antireflektion

√
√
√

Vattentät

√
√
√

Reptålig

√
√
√

Hd

√
√
√

Filtermaterial

Optical glass
Optiskt glas
Optiskt glas
Schott B270
Schott B270

Mönster

√
√
√
√
√

Filtrets Tjocklek

7.3mm
5,5 mm
5,5 mm
5.5mm
3.3mm

Form

Circle
Cirkel
Cirkel
Circle
Circle

Ringmaterial

Aviation aluminum alloy
Flygaluminiumlegering
Flygaluminiumlegering
Aviation aluminum alloy
Aviation aluminum alloy