Astronomiskt Brytningsteleskop för Barn Nybörjare 70mm Bländare 400mm BRännvidd Reseteleskop Med BäRVäska, Justerbart Stativ
1 294 Kr
1 934 Kr
33% OFF
Inklusive moms
&fri frakt till Sweden
Tillverkare:

K&F Concept

De Bästa Teleskopen Passar Alla Budgetar Och Behov - Oavsett OM du Tittar På Planeter, Stjärnor, Månen Eller Något Annat På Natthimlen

KF33.020

Artikelnummer:

KF33.020

1294

https://se.kentfaith.com/GW01.0233_barns-nybörjare-70-mm-bländare-400-mm-brännvidd-astronomiskt-brytningsteleskop-med-bärväska-justerbart-stativreseteleskop
Funktioner
* 400 mm (f / 5,7) brännvidd och 70 mm bländare, optiskt glaslins med full beläggning, med hög överföringsbeläggning, kan skapa fantastiska bilder och skydda dina ögon. Det perfekta teleskopet för astronomer att utforska stjärnorna och månen.
* Utrustad med två utbytbara okular, okular 1: 25mm och okular 2: 10mm. 5x24-sökaren kan hitta objekt enkelt och snabbt.
* Utrustad med ett justerbart stativ av aluminium och bärväska, kan teleskopet och stativet läggas i påsen för bekväm resa och förvaring.
* Monteringen är enkel, linsen är lätt att byta ut, vidvinkeln och den senaste generationen okular gör visningsobjekten bekvämare utan att orsaka trötthet i ögonen och yrsel.
Shipping
&fri frakt till Sweden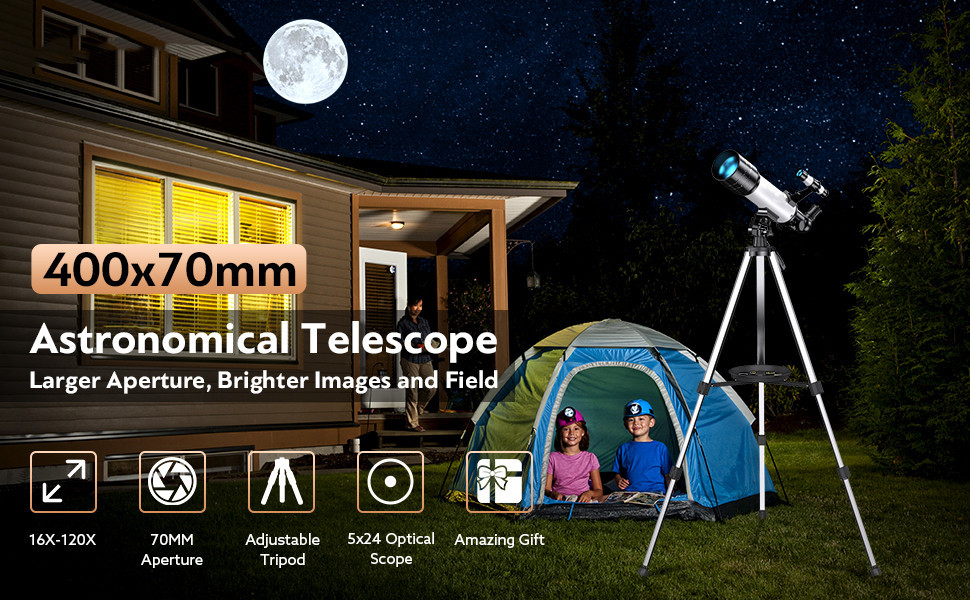 Are you looking for a gift for family members? You must be very curious about the moon? Refractor Telescope, as an primary astronomical telescope, which is affordable but with exquisite packaging and high quality. You may be impressive by following features.
---70MM large aperture of the objective lens, which can creates stunning images with increased brightness and clarity.. The larger the aperture diameter, the more of the light entering the telescope, and the more bright images.
---Come with 400 focal length and two replaceable eyepieces(25MM, 10MM) and one 3x Barlow lens. You can magnify the moon to 150x with your child, and see the lunar craters.
---Easy to assemble with detail introduction, it comes with customized instructions, will introduce how to install step by step. Can exercise kids assembly ability alone.
---The visual resolution and optical capabilities are top tier for the low-end affordable.
Warning: Don't point the lens of the telescope at the sun. Observing the sun can cause irreversible damage to your eyes!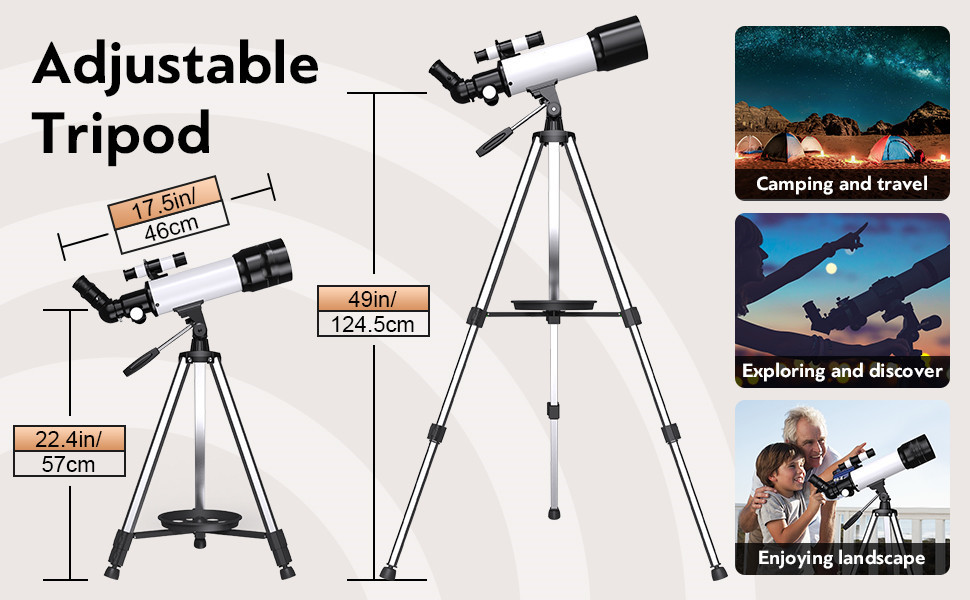 Equipped with a high-quality tripod. The tripod can be adjusted from 22.4in/57cm to49in/124.5cm. If it is for a child, it is very suitable with the tripod height. If you are an adult, please kindly be advised sit on a stool or half squat to watch.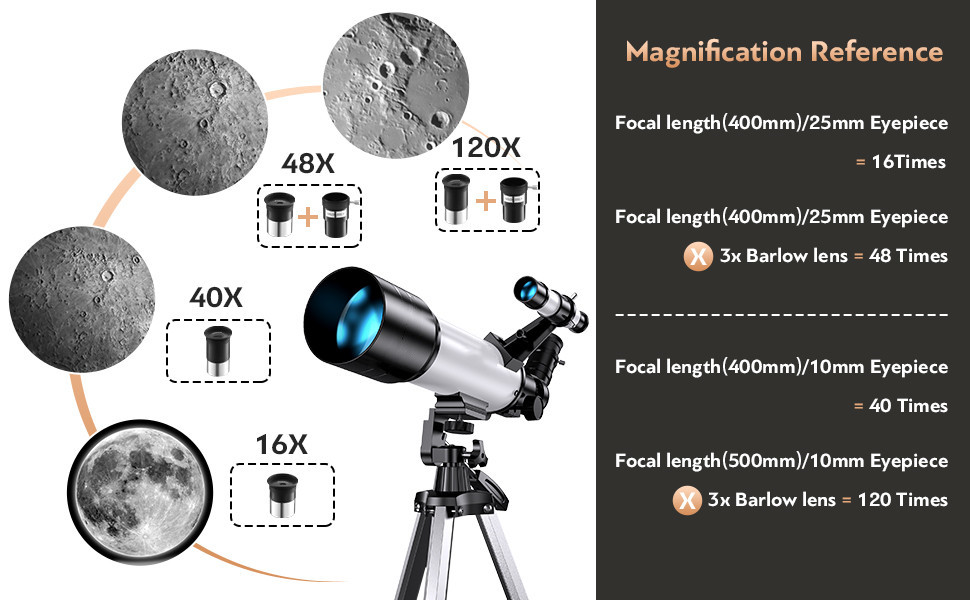 Using the high power eyepiece, perfect for observing the Moon and planets or bringing distant wildlife in close for detailed views.
Magnification to 40x with 10mm eyepiece
Magnification to 120x with 10mm eyepiece and 3X Barlow lens
Magnification to 16x with 25mm eyepiece
Magnification to 48 with 10mmeyepiece and 3X Barlow lens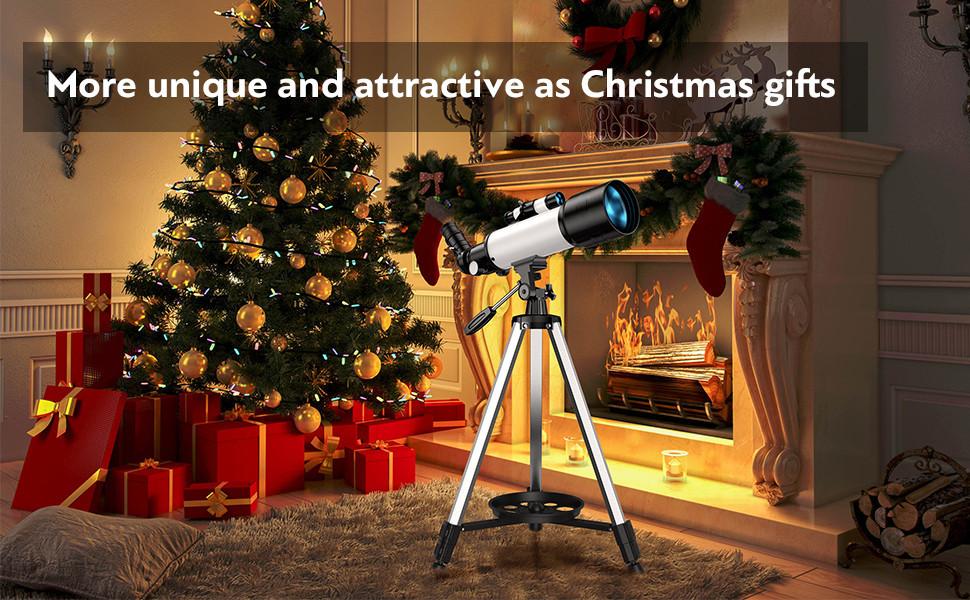 | | |
| --- | --- |
| model | AS06 |
| Objective lens aperture | 70mm (2.75 inch) |
| focal length | 400 mm(f/5,7 ) |
| Avsluta pupillavstånd | 18 mm |
| Linsmaterial | BAK7 |
| okular | 10 mm, 25 mm |
| Maximal förstoring | 120 gånger |
| Upphittare | 5 × 24 |
| stativ | 65 cm-120 cm höjdjusterbart aluminiumstativ |
| Produktstorlek | 63×12,5×21 cm |
| Förpackningens mått | 63×12,5×21 cm |
| produkt vikt | 2000G |
| Paket vikt | 2500g |
| Packlista | |
Rating

18 reviews.

0 reviews.

10 reviews.
Price

1 934 Kr

1 294 Kr

807 Kr
885 Kr
Model
KF33.020
KF33.036
KF33.037
These images belong to K&F Concept end users.
There are no faqs for this product.