Wildlife Trail Camera WiFi 30mp 4K / 30fps Uppgradera Bluetooth-Spelkamera Med Night Vision 0.2s Triggerhastighet Vattentät ip66 För öVervakning Utomhus Vilda Djur
1 087 Kr
2 551 Kr
57% OFF
Inklusive moms
Tillverkare:

K&F Concept

Fri frakt. 30 dagars retur utan anledning. K&F trailkamera har 30MP 4K/30fps, inbyggda wifi och bluetooth-funktioner, 2,0 tums skärm, vidvinkelutlösningsområde på 120 grader.

KF35.033

Artikelnummer:

KF35.033

1087

https://se.kentfaith.com/GW01.0214_trail-camera-wifi-24mp-1296p-uppgradera-bluetooth-spelkameror-med-night-vision-motion-activated-och-120-°-detection-angel-för-utomhus-djurlivsövervakning
Funktioner
• Kameran kan ta bilder med hög pixelnivå på upp till 30 MP och videofilmer med en upplösning på upp till 4K/30fps. Hjälper dig att registrera varje detalj i scenen.
• Kameran har inbyggt Wi-Fi och Bluetooth, så att du kan visa och hantera dina inspelade bilder och videor i realtid från ett avstånd på upp till 15 meter via APP-programvaran installerad på din telefon och njuta av de underbara bilder som tagits av kameran när som helst.
• Inbyggd 2,0-tumsskärm, visuellt gränssnitt, mycket enkel inställning. Du kan också bläddra bland de foton och videor som tagits med kameran omedelbart. Utrustad med 44 infraröda lysdioder med låg ljusstyrka på 940nm, bilden av rörliga objekt kan tydligt fångas i den mörka natten under förutsättning att det inte är lätt att upptäckas av djur.
• Med ett utlösningsområde på 120 grader med vidvinkel kan utlösningsavståndet nå 82 fot. När en djurrörelse upptäcks utlöses jaktkameran inom 0,2 sekunder, så att inget underbart ögonblick går förlorat. IP66 vattentät och förseglad design, den kan fungera normalt även i dammigt väder eller kraftigt regn.
• Mycket lämplig för övervakning av vilda djur, jakt, hemsäkerhet, övervakning av gårdar etc. Denna spårningskamera använder konventionella 8XAA-batterier och har en standby-tid på upp till 6 månader.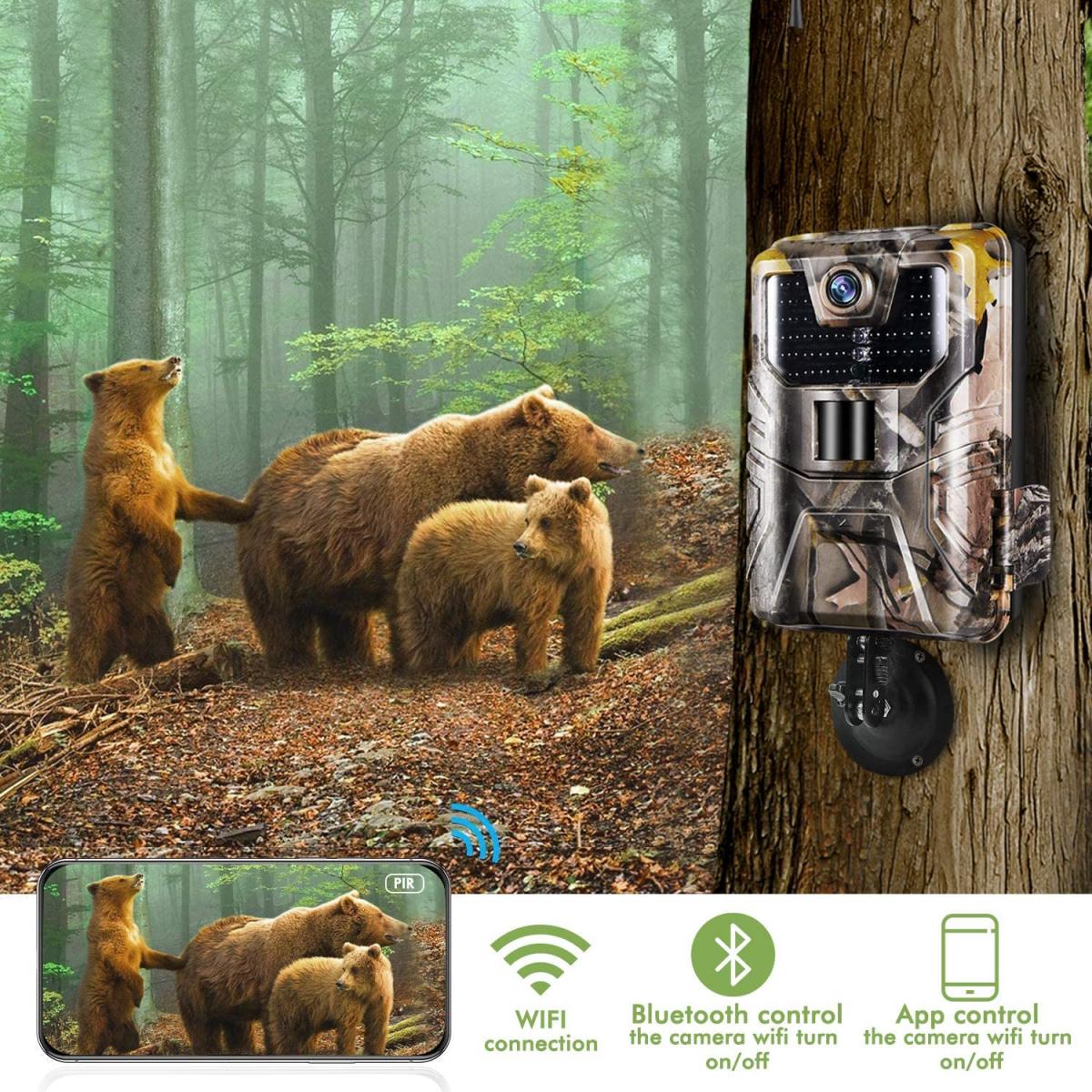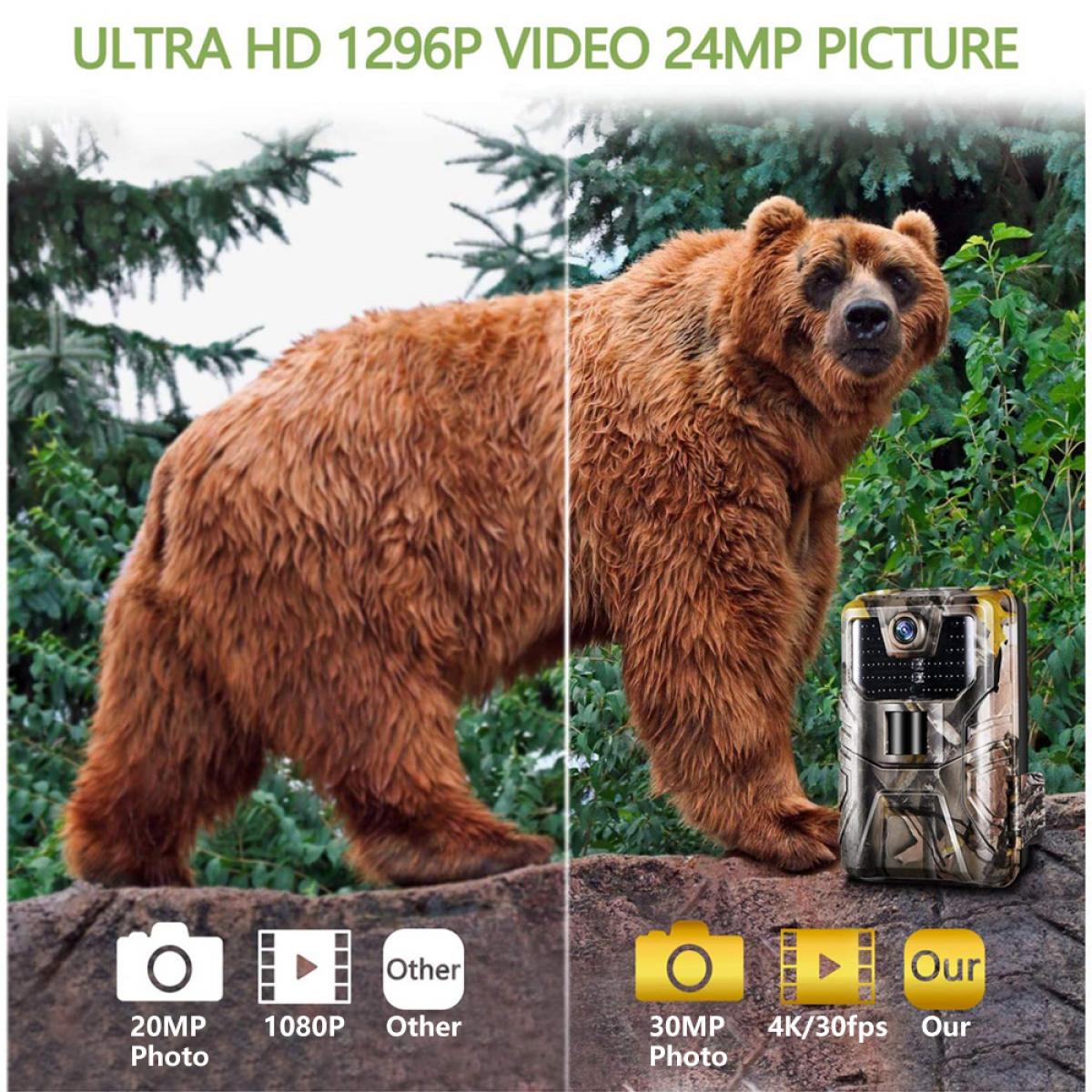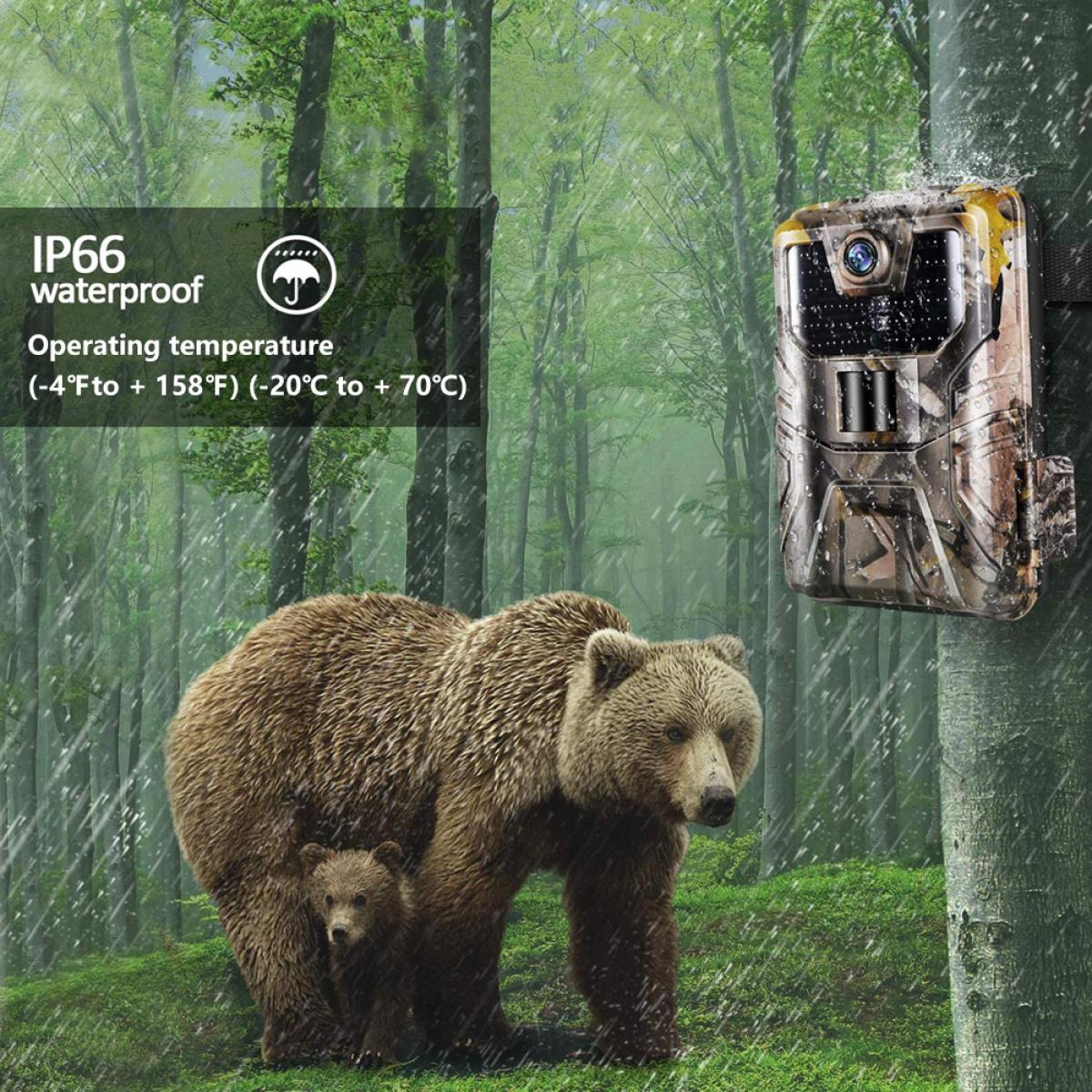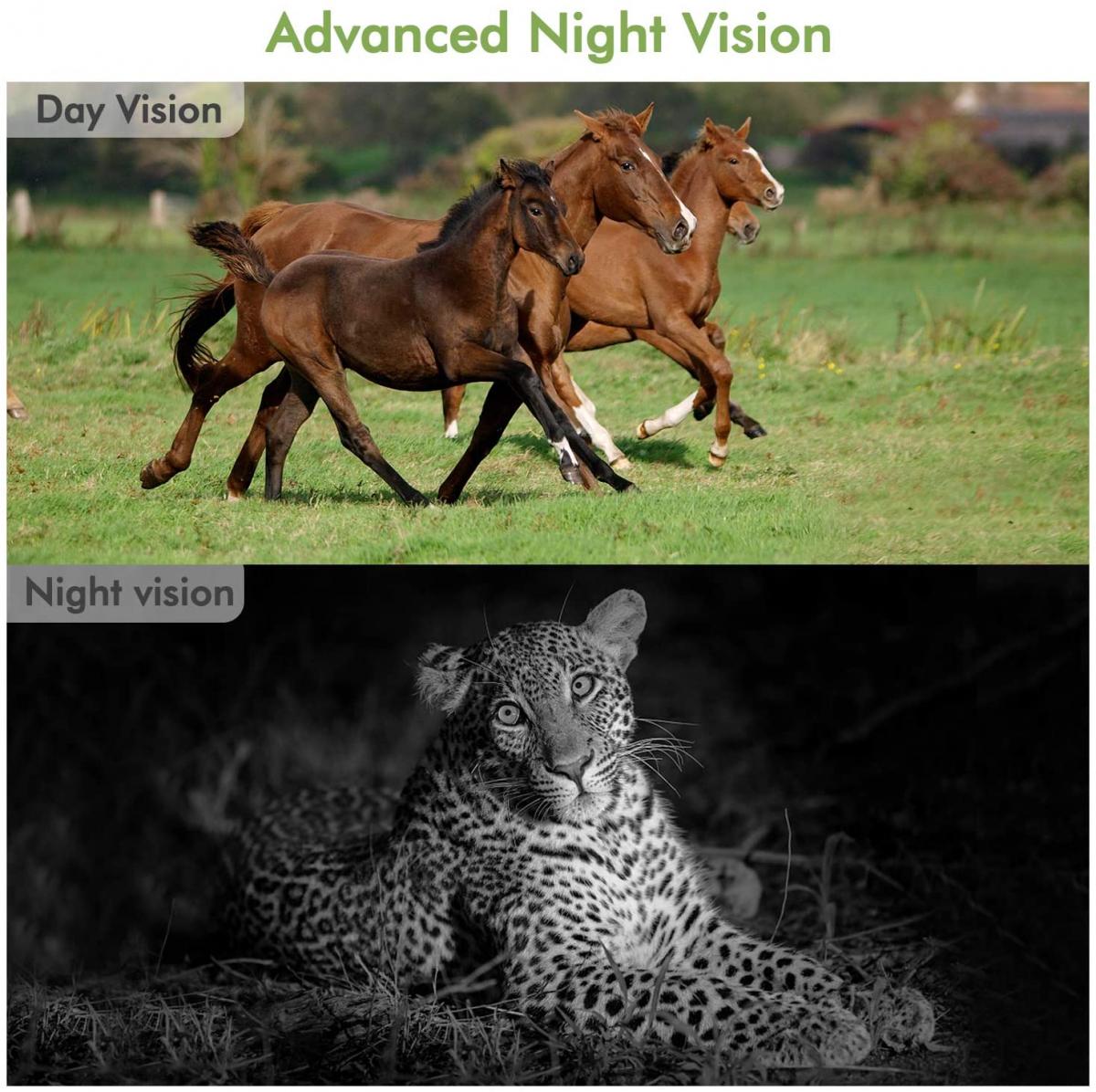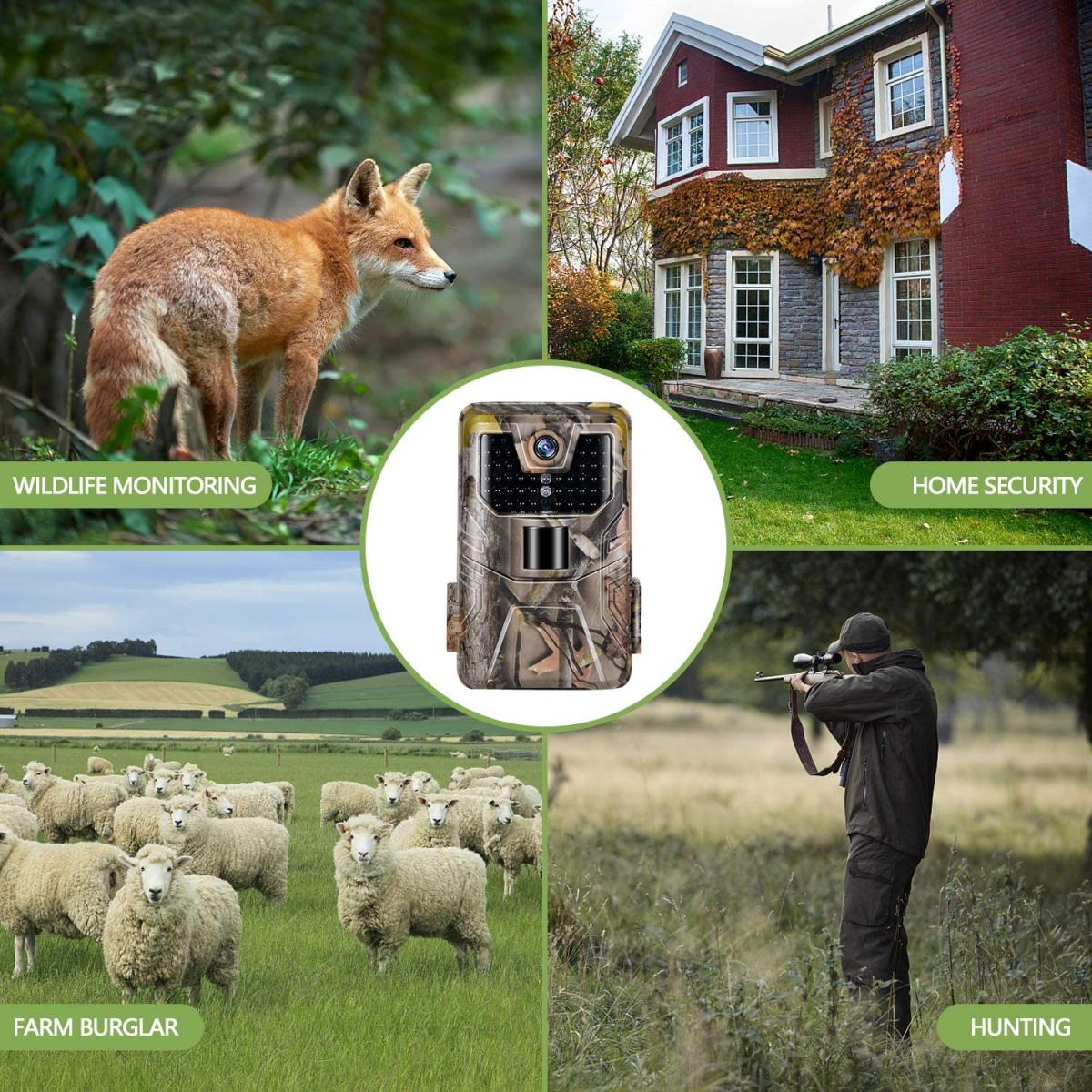 | | |
| --- | --- |
| modell | Wifi 900Pro |
| Pixel | 30MP / 24MP / 20MP / 16MP / 12MP |
| Upplösning | 4096 * 2160 |
| Maximal bildfrekvens | 4K / 30fps, 2K / 30fps, 1080p / 30fps, 720p / 30fps |
| Dag och natt switch | står fast vid |
| Wifi / Bluetooth | står fast vid |
| Audio | Inbyggd mikrofon |
| Videoutgång | Stöd AV-utgång |
| Infrarött mörkerseende avstånd | 25 meter |
| Avtryckaravstånd | 25 meter |
| LCD skärm | 2,0 "TFT |
| filformat | MP4 / H.265 |
| Infrarött ljus | 44ST / 940nm |
| Språk | SV / FR / DE / IT / ES / POR / HRV / DAN / SVE / SUO / POL / PYC |
| PIR-stift | 120 ° |
| Lagringsgränssnitt | MicroSDcard, maximalt stöd 256 GB |
| gränssnitt | Mini USB2.0 |
| strömförsörjning | 8 AA-batterier, stöder extern strömförsörjning (6V 1,5AA) |
| Standby-tid | Upp till 6 månader |
| Produktstorlek | 150mmx100mmx 60mm |
| Paketstorlek | 194 * 120 * 86mm |
| produkt vikt | 380 g |
| Paket vikt | 450 g |
| paket innehåll | Jaktkamera + USB-kabel * 1 |
Rating

26 reviews.

2 reviews.

1 reviews.

1 reviews.

0 reviews.

212 reviews.
Price

2 551 Kr

1 087 Kr

5 840 Kr

3 326 Kr

866 Kr

509 Kr

3 112 Kr

1 755 Kr

1 744 Kr

1 177 Kr

785 Kr

573 Kr

Model
KF35.033
KF35.007V4
KF35.037
KF35.006V4
KF35.002V2
KF35.004

Max. Lagring

32GB

Bildupplösning

20MP

SKärmstorlek

2.4"

Videoupplösning

2.7K

WiFi+Bluetooth

NO

Antal Infraröda Lampor

42pcs (940nm)

Antal Pir-Sensorer

1pcs

Pir-Sensorernas Detektionsområde

120°

AvståND Till Utlösare

26m (82ft)

Hastighet För Utlösare

0.3s

Vattentät Ip-Klassning

IP66
Robust and functional camera
I've been looking at getting one of these for ages and finally bit the bullet. This is beyond what I could've expected for the price. Build quality, picture quality, motion sensor, night vision are all great and it doesn't drain batteries either!
07/07/2021
Good for My garden.
Fantastic wild video camera packed with many elements which you won't get else were.* 4K video is crisp and clean* Stuning image capture quality* Censors works outstanding in the night or day* Censors have great sensitivity and can be adjusted to the need.* Night flash is brilliant* Support supper fast SD cards from class 10* Integrated video screen is also crisp and clean to check all capture videos/images instantOverall 10/10
07/07/2021
Very Good
Had a week or so with this camera and still not got into all its features yet but heres a review of what ive found so far.I bought a cheap Wildlife cam in a closing down sale a few years ago. Wasnt the best but for £20ish it did the job. Used to take it when we went out in the caravan and got some fairly good shots of Otters and Fox etc. It finally gave up the ghost so i decided an upgrade is called for so got this one. Wasnt expecting so much ofan improvement if im honest but boy was i suprised. Have only used it in the garden at the moment as we arent of camping till next month and wanted to test it incase i was going to return it. Im keeping it, photo and video quality are excellent. Waterproofing seems fine and its quite a bit smaller than my other camera.Im hoping to get some good footage and pics over the summer and will update this review in a few months to better show the cameras abilities. Menu and setup are very easy and having only opened the box and inserted batteries and memory card it was up and running in less than 2 minutes. I did have an issue connecting via app on my Phone but quick browse through the instructions fixed that. All in all its a fair bitmore expensive than my previous camera but the quality of this one is superb.
25/06/2021
Superb Image
This has a very clear image and was very exciting to check back on the SD card to see what had been captured. I used an SD card because I chose to set it up a bit further away from a WiFi signal than my back garden but the image quality is amazing and I could check in on it with my phone. For the price its a great bit of kit and im having a great experience!
25/06/2021
Excellent trail camera at the peak of tech
Item arrived quickly and well packaged. The item was quick and easy to set up. It takes quite a few batteries so make sure you have 8 AA batteries and your SD good to go. It all comes with a few different accessories for setting up the camera.I was really impressed with the image quality. You can either view through the app, but there is also a built in screen to review the footage. The app is the easiest way to set up and change the settings on the camera, so you can get it working exactly the way you want toFingers crossed can pick up some great wildlife footage in the back garden now!
21/06/2021
These images belong to K&F Concept end users.
There are no faqs for this product.