TRåDLös Lavalier Mikrofon Bluetooth 50ft Lapel Clip-on Mic För iPhone Android Ipad för Inspelning Video Vlogger Content Creator Interviewer
597 Kr
877 Kr
31% OFF
Inklusive moms
Tillverkare:

K&F Concept

Fri frakt över hela världen. 30 dagars retur utan anledning. Trådlös Bluetooth för iPhone och Android, 50ft trådlös kavajmikrofon Smart Mic enkel att ansluta, täcker 50 fot Bluetooth-signal. Kan användas med alla dina smartphones, inklusive iPhone och And

KF10.018

Artikelnummer:

KF10.018

597

https://se.kentfaith.com/GW01.0151_gialer-smartmic-trådlös-bluetooth-lavalier-mikrofon-för-iphone-och-android-50ft-trådlös-reversmikrofon-smart-mic
Funktioner
• Professionell Bluetooth Lavalier reversmikrofon, enkel att ansluta, täcker 50 fot Bluetooth-signal. Kan användas med någon av dina smarta telefoner, inklusive iPhone och Android, iPad. Perfekt för online-kurser, zoommöten, intervjuer, videoinnehållsskapare, handledning, heminspelning, spel, Yahoo-inspelning och YouTube-inspelning.
• Använd Gialers nya tekniska trådlösa lavaliermikrofon för att öka dina gillare, tittare och prenumeranter på sociala medier med tio gånger. Alla professionella jobb som hanterar innehållsskapande kommer att gynna med denna Gialer Smart Microphone. den är bärbar och har professionell produktdesign med premiumchipset som ger fantastiskt ljud och har mer än 6 timmars arbetstid per laddning.
• Som en professionell trådlös lavaliermikrofon, inbyggd 6 mm ECM högkänslig mikrofon, Bluetooth Qualcomm-chipset, SWISS Intelligent algoritm och SmartMike + APP som har brusreduceringsfunktion. Alla arbetar tillsammans för att erbjuda brusreducering på flera nivåer, återställa det mest autentiska ljudet, tillhandahålla högkvalitativ ljudkälla för taligenkänning.
• Clip and Go, inga kablar krävs, perfekt för utomhusinspelning. Mini Metal Clip gör att du enkelt kan fästa den i kragen eller fickan. Kompakt och lätt design är lätt att bära med sig. Premiummaterialet är tillräckligt slitstarkt att använda genom åren.
• Denna Bluetooth Lavalier-mikrofon fungerar bara med SmartMike + -app på smarttelefon (iPhone, Android, iPad). Det fungerar INTE med original kamera och röstinspelning av smart telefon, INTE fungerar med surfplatta, dator och kamera.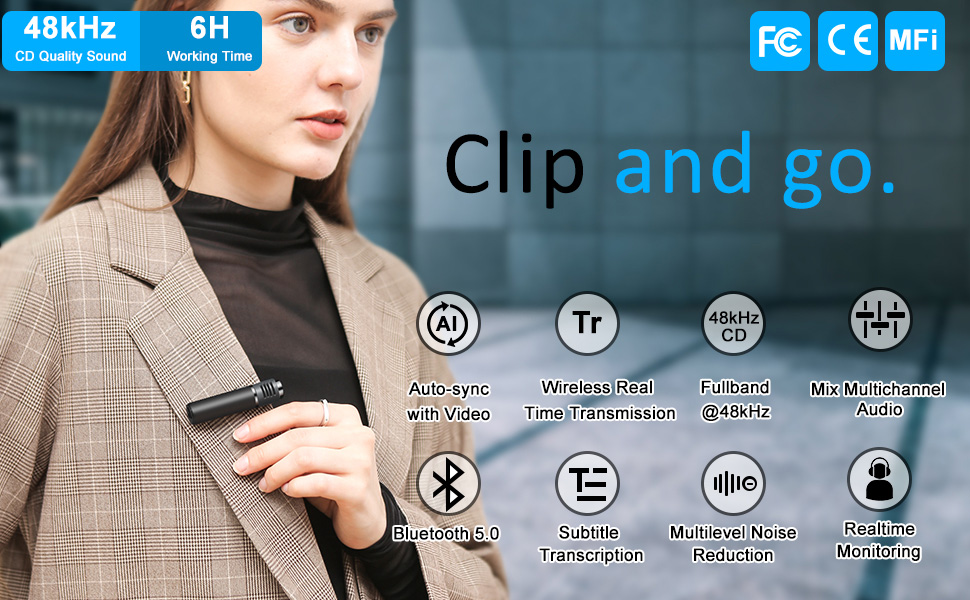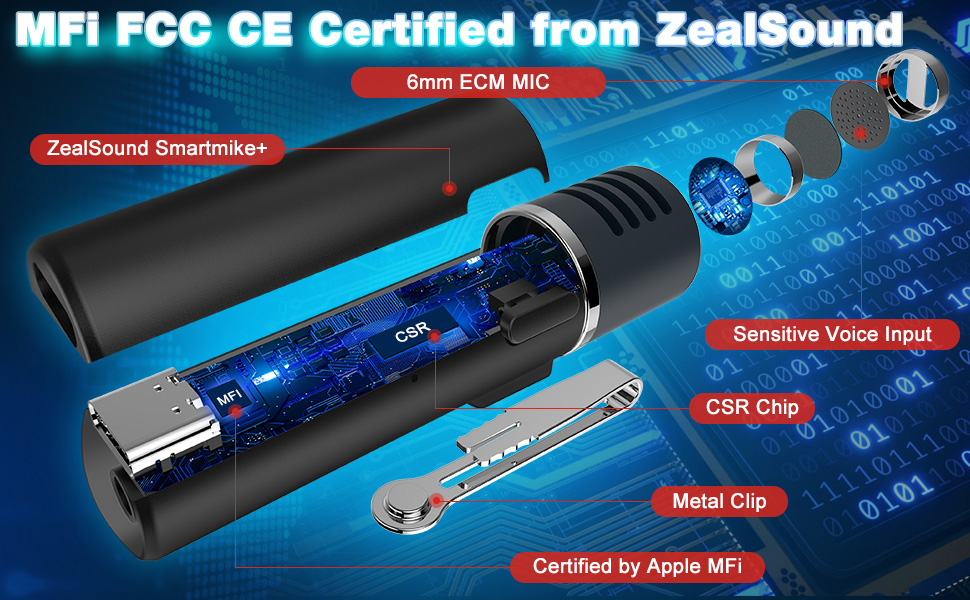 MFI CE FCC CERTIFIED Microphone Leads to Premium Audio Quality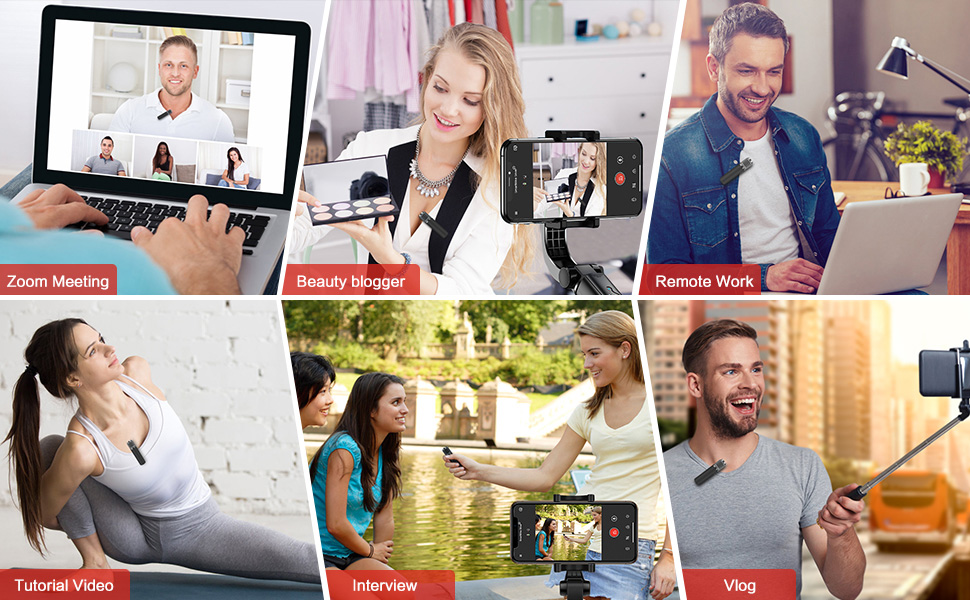 Our Bluetooth Lavalier Microphone Meets All Your Needs
Creating content with high audio quality has never been easier. Do you want to increase your likes, views, and subscribers on social media by ten-fold? Any job professions dealing with content creation will benefit using this Smart Microphone. It is small, portable, produces great sound, and has long battery life than any other microphone in the market.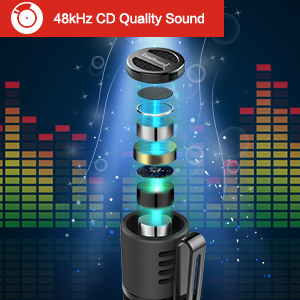 48KHz CD Quality Audio Output
Provides clearer audio recording for CD quality 48KHz-16bit AAC. Adjust your sound with built-in sound card mixer controller and professional grade chip to reach a perfect voice.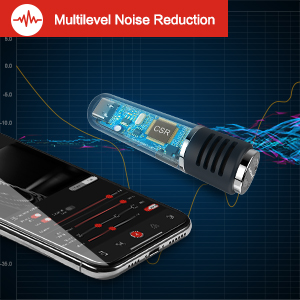 Multi-level Noise Reduction
Professional MFI certified wireless lavalier microphone system, built-in 6mm ECM high sensitivity microphone, Bluetooth Qualcomm Chipset, SWISS Intelligent Algorithm and the supplementary Smartmike+ APP which work together for the noise reduction.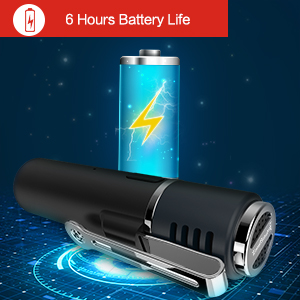 Continuous 6 Hours Battery Life
Battery life is up to 6 hours with one hour full charging time. Perfect for on the go recording. Portable and 14g light weight with the cool storage case makes it easy to carry around.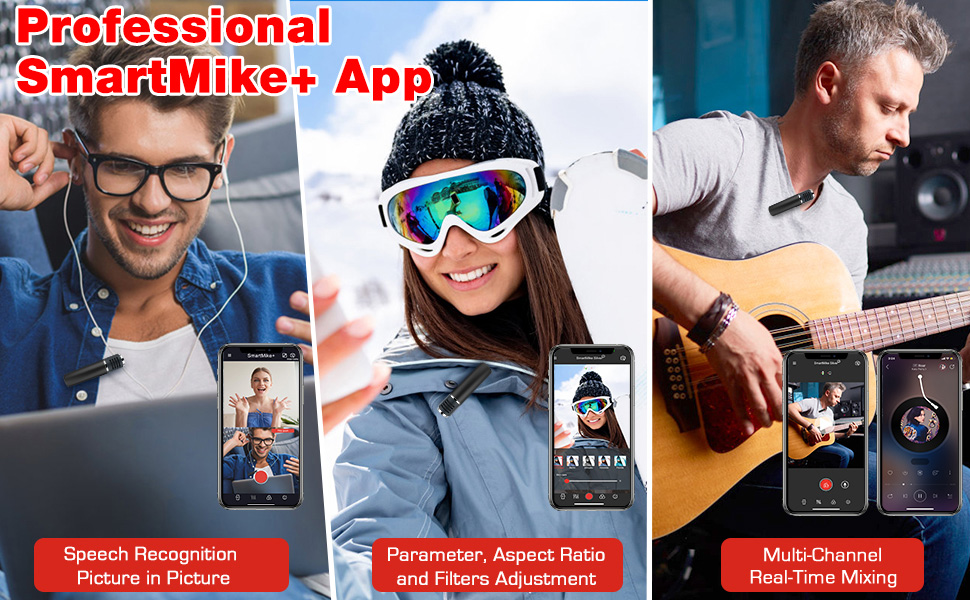 Works with SabineTek Powered Professional SmartMike+ APP / Also can work with ZOOM APP
Note: Only works with SmartMike+ APP and ZOOM APP SmartMike+ APP has no PC version, so it can't work with PC if you use the SmartMike+ APP ZOOM APP can work freely on your PC, phone and tablets Pay Attention: It can't work other APPS, such as Facebook live, ins live. But you can create video with the SmartMike+ APP and upload it to other website.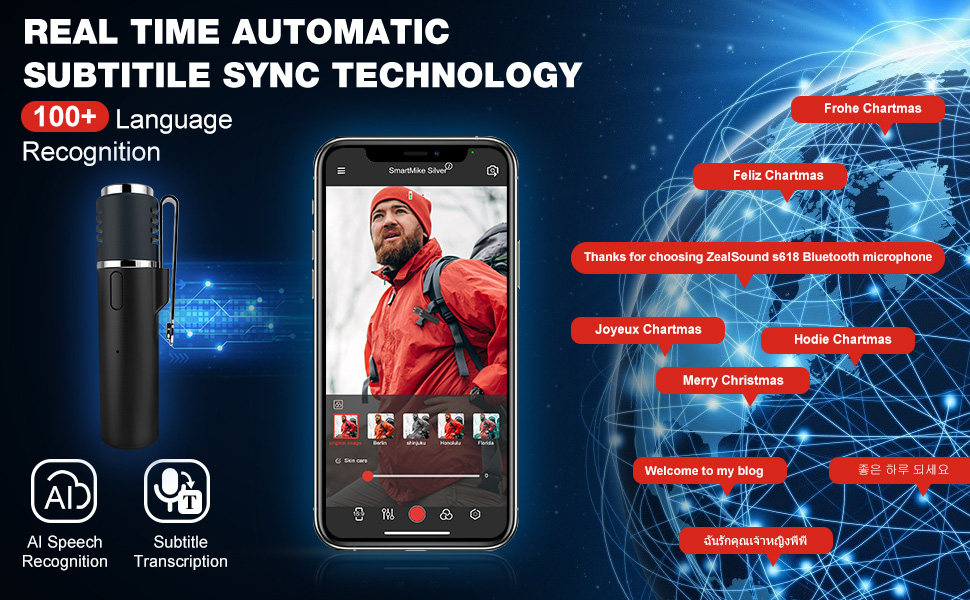 Specifications:
Produktstorlek: 2,64*0,6 tum
Mikrofon: 6 mm ECM
Bluetooth: 5,0
Bluetooth Avstånd: 98 fot/30 meter
Strömkapacitet: 130 mAh
Batteritid: 6 timmar
Laddningseffekt: typ c (Laddningskabel ingår)
Kontakt: 3,5 mm ljudkontakt
Frekvens: 100Hz~20KHz
Inspelningsmönster: 48KHz-16bit AAC
Vikt:
14g KUNDSUPPORT: LIVSTID FRÅN ZealSound
Great mic - really simple to use
Great mic, clear sound, handy, very good range. It's not clearly stated in the product description that you cannot use the mic when recording a video with the phone's native App. This is a big limitation. HOWEVER, the SmartMike+ App is very good with many video enhancing features and I am now using it in a number of cases. The video app can be improved further...e.g. there is no "pause" but only record and stop.Range is very good.The "windscreen" (fluffy thingy) is useless. I tried for 5mins to fit it. The band is very narrow and cannot fit it. Had to cut it but did not work, so now I have to re-stitch it somehow.Still...I am happy with it and will use it in presentation calls etc.
17/03/2021
Absolutely awesome
I thought long and hard until I decided to buy this microphone and in the end I made a good choice. Because of lockdown situation, I have to do online seminars and trainings and this microphone is very helpful to me.I received it well packaged, it has a compact protective cover in which the accessories are well arranged and the microphone is well protected.The microphone is light, with a nice design, it is small in size I would say (slightly larger than an AA type battery), at the bottom is the type C connection to charge the battery and 3.5mm for headphones, the clip which comes the microphone equipped with to hang it on the coat is very rigid, you can not lose it once I hung it. The battery is good enough for its small size that lasts about 5.6 hours, and the recharging time is about 1 hour. The microphone works with the Smart Mike + application which is easy to use, the sound recording quality is excellent. With headphones from the set I can hear myself in real time when I record, out of curiosity I tested the distance at which it is connected and at about 40 steps the signal was weak, of course I don't need to record anything at such a distance but it's good anyway. It is also useful the fluff in the set that during the wind or other kind of noise makes the recorded sound clean. I really like the microphone and I look cooler during my webinars.
21/03/2021
Professionell Sound Lavalier-mikrofon!!
Denna mikrofon har verkligen överträffat mina förväntningar. Efter att ha haft en lavaliermikrofon som tidigare anslutits till en mobiltelefon (från Shure), hade jag bildat mig en uppfattning att trots allt inte kunde fås en anständig ljudkvalitet med en mikrofon; ingången borde inte göra någon skillnad, och Shure är ett välkänt varumärke. Shure-mikrofonen var inte billig, och ändå var min röst på inspelningar platt och avlägsen oavsett hur jag placerade den och oavsett vad jag gjorde i efterproduktionen.

Lavmikrofonen har visat mig fel, du kan få professionellt ljud med en mikrofon till det här priset! Jag vet att olika mikrofoner rymmer olika typer av röster, men det är värt att notera att den här tar ett brett spektrum och fångar min röst riktigt bra. Med lite EQ och komprimering låter den här mikrofonen fantastiskt. Jag har den ansluten direkt till min Canon XA11 eftersom kameran har inbyggda XLR-ingångar och nu har jag bra video och ljud utan att behöva blanda de två i posten.

Om du letar efter professionellt ljud på en budget kan jag rekommendera det till alla som försöker förbättra YouTube-kvaliteten utan att bryta banken.

Jag är mycket nöjd med mikrofonen; Först och främst är det bra gjort, men det erbjuder överraskande hög kvalitet, mycket tydligare än Shures interna mikrofoner.
16/08/2021
Lapel microphone size of AA - Bluetooth - works with Skype, Zoom & Teams
Very easy to install, compact and convenient, good quality, very clear sound. worth to buy.
08/02/2021
These images belong to K&F Concept end users.
There are no faqs for this product.